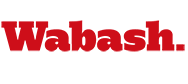 Junior Center Sparks Little Giants to 8th Straight Win
by Howard W. Hewitt

January 6, 2006

A career-first double-double for junior center Ryan Stephens lifted Wabash College to a 70-63 win over Allegheny College at Chadwick Court Friday night. It was the Little Giants' 8th straight win.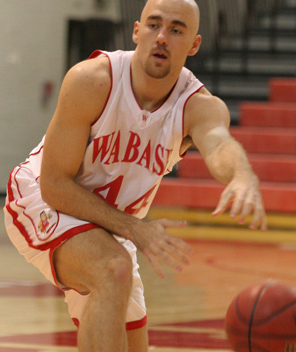 Stephens, a 6-8 junior from Zionsville, scored 14 points and grabbed 11 rebounds. He hit 10-of-12 from the line and added two blocked shots.
(See game photo album by clicking here.)
"I think that over the past couple of weeks Coach (Jason) Mulligan and Coach (Mac) Petty and I have really been working on my confidence inside," Stephens said. "Because I'm confident, I don't think there's anybody in the conference who can stop me or any of the other post guys that we have. We have just really focused in on that."
Wabash (9-3, 3-0) jumped to a halftime 34-28 margin on the strength of its inside game, outscoring the visiting Gators 22-8 in the paint. A defensive change sparked a run that gave Wabash the lead for good. Late in the first half Petty switched the Little Giants out their usual man-to-man and crossed the Gators up with some zone.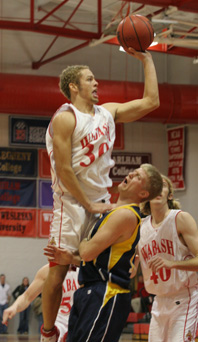 "We missed a lot of easy shots in the first half," Petty said. "If we had made those easy shots that would have made a big difference. Then we had some dumb turnovers and we had some charging fouls. We let them come back and get ahead of us because of those things. Then I thought let's look at it (the zone) and that made a difference."
Wabash threatened to blow the game open early in the second half racing to a 15-point margin with 15:02 to play. But Allegheny (5-6, 1-2) hung with their hosts and eventually got it down to four late in the contest.
"There is satisfaction, but you never want to be satisfied," Petty said. "This is only our 12th game and we have 13 games to go. We have go keep getting better each time."
The Gators pulled to 64-60 with just over a minute to play. But Adonis Joseph hit two free throws; Stephens rebounded and connected on a free throw at the other end of the court for 67-60. Stephens controlled the board the next time down and was again fouled then hit both free throws.
"We've been working really hard on free throws lately because one of our goals is to shoot 75 percent from the free throw line every game," Stephens said. "But we've only gotten it once all season. It paid off for me tonight."
Petty enjoyed seeing the brawny big man have a break-out game.
"We feel this it the type of player that he can be so what he's doing doesn't surprise me," the coach said. "It's appreciated and enjoyed because we're seeing him develop and do the things he's worked very hard for. It makes him feel good and makes us feel great."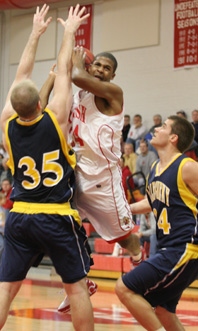 Stephens' 14 points matched Joseph's 14 for game honors. Kyle Medeiros and Andrew Zimmer scored 12 apiece. Zimmer was close to giving the Little Giants a second double-double with 8 rebounds.

Wabash's tough defensive reputation got a little tougher Friday night. The Little Giants held Allegheny to 36 percent shooting from the field. The Gators hit just 17 percent behind the three-point line.

The NCAC's second leading scorer, Matt Majzlik, was held to 9 points – 11 below his season average. The visitors were led by Casey McCloskey's 14 with 6-8 freshman Ryan Hollihan adding 12 and Jimmy Savage scored 11.

Wabash is back in action at 3 p.m. Saturday afternoon hosting the Hiram Terriers. Allegheny travels back across state to play Earlham.

Hewitt is Wabash College's Web Editor. Photos by Director of Public Affairs, Jim Amidon.

In photos:

Home Page: Ryan Stephens gets congratulated after his first career double double.

Top right: Stephens works the ball inside to a teammate.

At left: The athletic Mike Russell scores on a drive.

Bottom Right: Adonis Joseph fights for position.




Results: Wabash 70, Allegheny 63 Game Stats