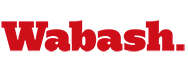 Chamber Orchestra to Give Fall Concert on Sunday
by Karen Handley

November 28, 2005

Get directions to Wabash College Fine Arts Center

The Wabash College Chamber Orchestra invites you to a Sunday evening of beautiful music at 7 p.m. on Sunday, December 4 in Salter Concert Hall in the Fine Arts Center.

Under the direction of Wabash music instructor, Alfred Abel, the Wabash College Chamber Orchestra consists of a diverse group of Wabash College students, faculty, and members of the Crawfordsville community.

They will be performing Ludwig van Beethoven's Symphony No. 1 in C Major; Edvard Grieg's Peer Gynt Suite No. 1 (Morning Mood, Ase's Death, Anitra's Dance, In the Hall of the Mountain King); and John Corigliano's Elegy for Orchestra.

The Crawfordsville community is invited to the free concert. No tickets are required.