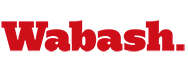 Little Giants to Face Top-Rated Div. III Basketball Team
by Howard W. Hewitt

November 18, 2005

Wabash College and the nation's No.1-ranked Div. III men's basketball team, Illinois Wesleyan, will square off for the Little Giant Tip-off Classic championship at 3 p.m. Saturday. Both advanced with Friday night wins.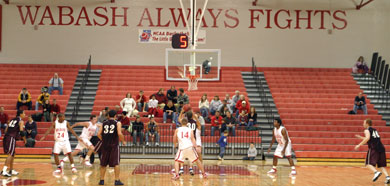 Wabash had too much balance and too many weapons for Alma College. The Little Giants put three players in double figures and 10 players scored in a 73-54 win. Top-rated Illinois Wesleyan used 24 points from its standout player, Keelan Amelianovich, to subdue University of Texas-Dallas, 71-58.
Wabash not only had balance but shot the ball well from the field at 44 percent to Alma's 29 percent. The Little Giants out-rebounded the visitors 45-39.
"We're going to able to play a lot of people, and different combination of guys," coach Mac Petty said. "I know they were really high and excited about playing. I was just pleased with seeing some of the things we wanted to accomplish like our fast break, getting the ball out and getting it down the floor."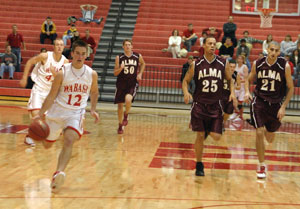 Wabash capitalized on fast break opportunities often off of Alma turnovers. The Scots gave up the ball 20 times. But it wasn't all run and gun for Wabash, the half-court offense produced 14 assists to only 9 for Alma.

Senior Adonis Joseph (Mishawaka, IN/Mishawaka) led the winners with 14 points. Michael Woods (Indianapolis, IN/Cathedral) added 11 and Andrew Zimmer (Hobart, IN/Hobart) scored 10 for Wabash. Kyle Medeiros (Indianapolis, IN/Ben Davis) scored 8. But the balance came on the rest of the score sheet which showed Kyle Coffey (Greenwood, IN/Center Grove), Gary Simkus (Highland, IN/Highland) and Ryan Stephens (Zionsville IN/Zionsville) all with six.

Wabash led 36-27 at halftime and led by 20 or most of the second half.

Alma will play the University of Texas-Dallas at 1 p.m. in the consolation game. The championship gets underway at 3 p.m. The Titans had a sizeable following at Chadwick Court Friday night.

Petty said the chance to play Div. III's top team is a great challenge.

"We watched them and our guys got to see them," he said. "They're the No. 1 team in the pre-season in country. I think it's a great challenge and a great moment for our guys to play someone like that. We want to show up and give them the best shot we possibly can."

In photos:

Top right: Little Giants get their 2005-2006 season underway by beating Alma College.

Lower left: Jimmy Owens leads the fast break.

On sports homepage: Caleb Lyttle scores early in Friday's game.




Results: Wabash 73, Alma 54 Game Stats