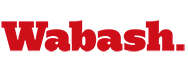 Little Giants Dominate Ohio Wesleyan for NCAC Win
by Howard W. Hewitt

October 1, 2005

DELAWARE, Ohio – Wabash College's Little Giants left Ohio Wesleyan's Selby Stadium with a little more swagger and a lot more confidence after dominating the host Battling Bishops, 29-7.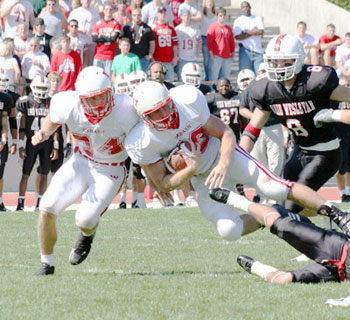 Wabash (4-0) used a bit of trickery on its opening drive marching 85 yards on 10 plays. Running back Brandon Roop (Newburgh, IN/Castle), a high school quarterback, threw a halfback pass to Mike Russell who was wide open for a 36-yard score. (Click here to see Wabash-OWU photo album.)
"We needed to pounce on OWU to make a statement," Roop said. "Coach put this play in with the confidence that we were going to step up and make a big play. Michael Russell (Terre Haute, IN/North Vigo) – the whole play goes to him selling the fake; he was wide open. I couldn't help to just throw the ball up in the air, it was an ugly pass, but it got to him and he got into the end zone."
Roop, even with modesty in his passing, had plenty to be proud of besides his first Wabash College TD pass. The senior back carried 19 times for 98 yards.
"Their defense is really good and our offense really practiced hard all week," Roop said. "Each day we asked ourselves who's better - our offense or their defense? That starts with the running game. I give the entire credit to the O-line. I could have walked and still got 4-5 yards. They bust their butts; they are the work horses."
The second Wabash score came with a little more October sorcery. The Little Giants lined up for an apparent field goal attempt with a little more than a minute before the end of the first half. But holder Geoff Walker (Schererville, IN/Lake Central) got off a shovel pass off to Kyle Piazza (Clarksville, IN/Jeffersonville) for a 14-yard score.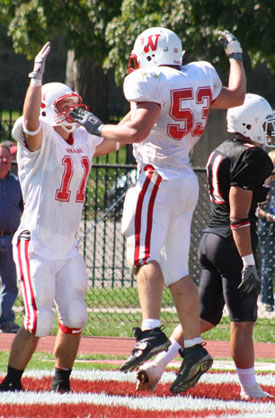 "We have so much respect for Ohio Wesleyan," Wabash coach Chris Creighton said. "We felt this was going to be one of the conference championship games, not the game because there is going to be more. But these guys are good enough to win the conference championship, we thought. We challenged our team to see who is better."

There was little question who the better team was Saturday in north-central-Ohio.

If the 13-0 halftime lead wasn't enough to convince the OWU homecoming crowd, the first possession of the second half probably did. Russ Harbaugh (Evansville, IN/Bosse), who had another huge day hitting 21 of 29 passes for 290 yards and one TD, connected with Eric Summers (Indianapolis, IN/Cathedral) on a beautiful 58-yard catch and run.

The Wabash defense gave up the late touchdown but continues its dominating form. The Little Giants held OWU (2-2) to nine first downs to their own 25. OWU gained 73 yards rushing. The lopsided difference really showed up in total offense, where the Little Giants had 501 yards to the Bishops' 126. The Bishops had only three first downs in the first half, and did not cross midfield until midway through the final period of play. The Little Giants forced two turnovers. Wes Anderson (Holland, MI/Holland) forced a fumble and came up with the recovery. In spite of a broken wrist, Billy King (Peoria, AZ/Peoria) snared his third interception of the season, picking off Ryan Sir Louis after a Wabash fumble prior to halftime.

"I just have to thank the offensive scout team—they gave us good looks all week," said defensive lineman Jared Lange (Terre Haute, IN/Terre Haute North), who had 6 tackles. "We knew the defensive line would be a big key in this game."

After the game Creighton and the Little Giants were feeling pretty satisfied, but knowing the month of October has some major challenges.

"The swagger is back," Roop said. "Wabash made a statement today. Wabash is back."

Up next: Oberlin. with Wittenberg and Wooster waiting in the wings.

Story and photos by Howard Hewitt, Wabash College's Director of New Media/Web Editor. Sports information director Brent Harris contributed to this story.

In Photos:

On Homepage: Little Giant defensive lineman Jared Lange brings down OW quarterback Ryan Sir Lewis.

Top Right: Brandon Roop gets hit at the end of one of his 19 carries.

Lower left: Kyle Piazza celebrates his touchdown, off a trick play - when field goal holder Geoff Walker hit him with a pass for a 14-yard score.

Quick Hitters ---

--- Russ Harbaugh has thrown 119 consecutive passes without an interception. He was 21-of-29 for 290 yards and one TD against Ohio Wesleyan. His TD pass (37th of his career) moved him to fourth on the Wabash all-time touchdown passing list with 37, sending Brett Butler '90 to fifth.

--- Brandon Roop's 19 carries and 98 yards rushing are both career highs. His previous best numbers were 13 carries and 30 yards against Kalamazoo College in the season opener.

--- Roop has caught, run for, and thrown a touchdown pass for the Little Giants in his career. He made two touchdown receptions last season as a J-back for Wabash. He ran for two touchdowns against Kalamazoo, and two more against Earlham last week before throwing a TD pass for the first Wabash score against OWU.

--- Pete Kempf (Auburn, IN/DeKalb) led the Wabash defense with seven tackles, one shy of his career high (eight vs. Kalamazoo in 2004).

--- Wabash had ten tackles for losses totaling 28 yards. Josh Foster (Indianapolis, IN/Ben Davis) and Jared Lange shared the team lead, each totaling two for six yards in the game.




Results: Wabash 29, Ohio Wesleyan 7 Game Stats