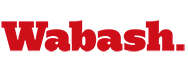 Harbaugh Passes Little Giants Past Kalamazoo
by Howard W. Hewitt

September 10, 2005

Senior quarterback Russ Harbaugh led the Wabash College Little Giants to a season-opening 46-6 home win Saturday over Kalamazoo College.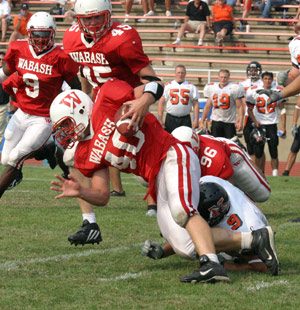 Harbaugh, who played most of the season at quarterback last year but often shared snaps with Dustin Huff, turned in a stellar performance. He hit on 23 of 31 passes for 329 yards and three touchdowns. (See opening day photo album of the Little Giant victory. Also see other photos, and community day highlight photo album.)
"Coming back to camp I felt like a different quarterback," the Evansville native said. "I spent some time in San Francisco this summer and sort of got my head on straight.
"I came into camp ready to be the guy and not second guessing myself any more. I've done that for three years, and hopefully we're done with that. I'm ready to be the guy. I'm ready to take charge of this team and see how far we can go."
Harbaugh took charge in the first quarter after Kalamazoo notched the game's first score. Stan Peplinski caught a nine-yard pass from Hornet quarterback Tim Kaselitz after Harbaugh's first-possession pass was deflected and intercepted.
But just three minutes later Don Juan Brown broke free for a 55-yard run to put Wabash ahead for good. With less than a minute to play in the first period, Harbaugh hit a wide-open Geoff Walker in the corner of the end zone from 19 yards out to start the runaway win.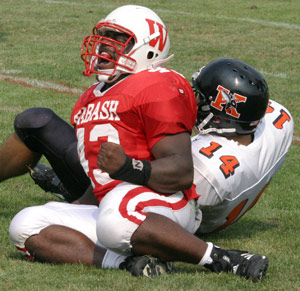 Brown had the other big day offensively for the Little Giants, rushing for a career-high 133 yards and a touchdown. Brown and Harbaugh played just the first three quarters.

The usual rowdy Wabash boosters and students watched the Little Giants cruise offensively, and the defense flex its muscles in recording the season-opening win.

Sophomore linebacker Adrian Pynenberg led the defense with seven tackles and a sack. Wabash held the Hornets to just 151 yards and eight first downs.

The game marked the return of senior running back Chris Ogden, who was injured early in training camp, and senior linebacker Aaron Selby, whose season ended at Homecoming last year when he sustained a broken leg.

Ogden gained 47 yards and scored a touchdown on eight fourth-quarter carries. Selby recorded one tackle. "They kept running traps and I couldn't get in there," said Selby.

Sophomore defensive tackle Jared Lange had his best day as a collegian, registering six tackles and a sack.

Other offensive stars for Wabash included J-back Kyle Piazza, who caught six passes for 62 yards and rushed for a two-yard touchdown. Mike Russell (2 yards), Geoff Walker (19 yards), and Ray Green (55 yards) each caught touchdown passes from Harbaugh.

Before the 1 p.m. kick off, members of the community celebrated Wabash College on Community Day. Free hot dogs, drinks and cookies were served up on the campus mall. The Montgomery County Animal Welfare League was the featured charity Saturday.

While the Sphinx Club collected monies for Hurricane Katrina relief, the Animal Welfare director said everyone feels for the people in Louisiana and Mississippi but there are needs close to home as well.

"We are in such awful shape that if we don't raise a lot of money we're not going to be here a year from now," Director Jesse McKinney said. "We are just so excited and so pleased that Wabash College would host us here today. We're so thankful."

More than $250 was collected along with several toys, bags of dog food and treats.

Hewitt is Wabash College's Director of New Media/Web Editor. Photos by Wabash College Director of Public Affairs Jim Amidon.

In photos: Top right: Adrian Pynenberg recovers a blocked field goal. Lower left: Tamarco White sacks Hornet quarterback Kaselitz.

On homepage: Harbaugh rolls out to pass.




Results: Wabash 46, Kalamazoo 6 Game Stats