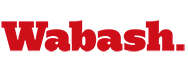 Classes of '55 and '65 Take Home Top Honors at Big Bash Awards Brunch
by Jim Amidon

June 5, 2005

The Wabash reunion classes of 1955 and 1965 cleaned up at the weekend-ending Big Bash Awards Brunch. (See photo album by clicking the link at the bottom of this page.)

The Awards Brunch capped a weekend packed full of activities attended by nearly 300 alumni plus spouses and children. Mitsuya Goto and Hal Lesh, both in the Class of 1955, came from Tokyo, Japan and Paris, France, respectively, to earn the honor of having traveled the farthest to attend Big Bash. Bastain Wonschik, Class of 2000, came all the away from Germany to join his classmates.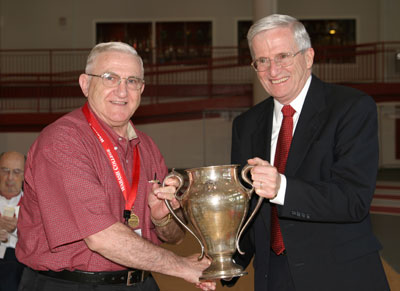 Claiming the 1909 Trophy Cup for having the highest percentage of his class return for Big Bash was Vaino Grayam, Class Agent for the Class of 1955. A total of 38 percent of the class returned for the 50th reunion.
The 1928 Attendance Trophy honors the class with the highest number of alumni returning for Big Bash. That award went to Peter Pactor and Jay Patterson, co-Class Agents for the Class of 1965, who lured 50 men from their class for the weekend.
The newest reunion award honors Edwin Robinson, Class of 1900, and Carroll Ragan, Class of 1901, who authored the school fight song, Old Wabash. Winning the Robinson-Ragan Award for Alumni Chapel Sing, an award based on memorization, attendance, and creativity, was the Class of 1955.
"The most special award we give during Big Bash Weekend is the Dorman Hughes Award," said Alumni Director Tom Runge '71. "It's an award that honors the late Dr. Dorman Hughes, long-time Class Agent for the Class of 1943, and goes to the class agent or class agents who, in the opinion of our staff, did the most work in organizing their reunion."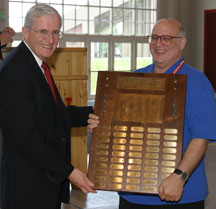 The Dorman Hughes Award was presented to 1965's Class Agents, Peter Pactor and Jay Patterson.

The final award presented at the Big Bash Awards Brunch was the Edmund O. Hovey Annual Giving Award, which is presented to the Class Agent whose class has the highest percentage of annual fund donors. Taking home the prize was the Class of 1955 with a 50 percent giving rate. Runge noted that the Class of 1965 had more donors (81) and a total of 46 percent.

"It was just a terrific weekend all around," added Runge. "From the colloquia sessions to Alumni Chapel Sing, our alumni had a great time on campus. It's our hope that they'll spread the word so that Big Bash '06 is bigger and better than ever."

In photo at top: Vaino Grayam '55 is honored by President Ford

In photo at bottom: Peter Pactor '65 is honored by President Ford




For more information see: