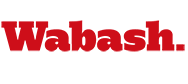 Class of 1955 Shines at Big Bash Banquet
by Jim Amidon

June 4, 2005

The Class of 1955, led by Class Agent Vaino Grayam, took center stage at Friday night's Big Bash Banquet. (See pictures of the Big Bash Banquet by clicking the link below!)

Thirty-seven members of the 50th reunion class attended the banquet, where each was honored by receiving his (or her) 50th reunion medallion. Louise Coleman received the honor for her late husband, Dr. Bill Coleman.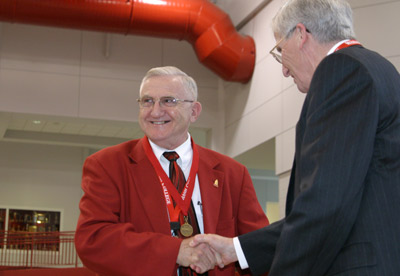 The evening began with a cocktail reception, but Director of Alumni Affairs Tom Runge '71, serving as master of ceremonies, kept things moving along throughout the evening.

The highlight was when each member of the Class of 1955 was introduced, while Wabash President Andy Ford H'03 presented every person with the ceremonial medallion.

Grayam and the 50th Reunion Gift Committee Chair Roger Kumler presented President Ford with a five-year reunion gift of $4.7 million, the largest reunion gift ever presented to the College.

President President Ford, in his remarks, gave alumni a nice year in review talk, plus discussed his pending retirement from the College and detailed how the search for a new president would go.

"The College is in marvelous shape now," Ford said. "We have completed the most successful capital campaign in our history; we are recruiting talented young men; and we are offering them a wonderful liberal arts education."

Ford expressed his appreciation to the alumni for returning to campus and their varied contributions to keep Wabash strong.

Alumni from as far back as the 1940s through 2000 returned for the banquet; they came from as far away as Tokyo, Japan and Paris, France to as close to just across town here in Crawfordsville.

The evening ended with a stirring rendition of Old Wabash, led by Mike Patterson '55.

Pictured above is Vaino Grayam, Class Agent for the Class of 1955, as he receives his 50th reunion medallion from President Ford.




For more information see: