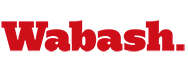 Wabash Alum Brings First Business to Commerce Park
by Jim Amidon

April 12, 2005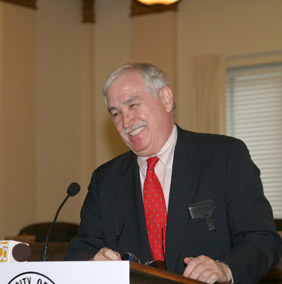 Crawfordsville Mayor John Zumer described the establishment of a new City commerce park as a "leap of faith," and the securing of the first tenant, Polyglot Press, as "a landmark step in the history of Crawfordsville."
Zumer introduced Polyglot Press and its president, Wabash alumnus David Scott '64, to City officials and the media at a press conference on Tuesday. Scott is president of Polyglot, which is in the business of digital publishing and print-on-demand publishing. The firm can take a title from start to finished book in as few as eight hours.
Scott conceived the idea of a publishing company that could quickly produce small quantities of out-of-print and foreign language books about five years ago and got his Philadelphia-based firm up and running a year later. The firm now has over 2,000 titles in various stages of production development and offers via its website approximately 200 titles at any given time.
Mayor Zumer's "leap of faith" in optioning 185 acres of land north of Crawfordsville and getting City Council approval to purchase the first tract of land for a modern commerce park represents a shift in economic development, he said, and brings Crawfordsville into modern times.
"One question lingered," said Zumer. "Who would be our first tenant?"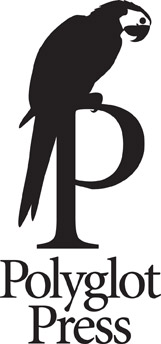 Scott had shopped around his idea of bringing Polyglot to the state of Indiana for the last year or so. In the process, he met with officials in college and university towns throughout the state. "We hope to be up and in business by the end of this month or early in May," he said.
Polyglot's Crawfordsville office will be temporarily housed on the second floor of National City Bank on Washington Street in downtown Crawfordsville. "We'll start out small and hope to add five to 10 employees per month, most of whom will be involved in editing and proofing, as well as the retouching of graphics of the originally published artwork," Scott said.
While Polyglot's focus is "ultra short-run" printing of out-of-print and foreign language titles, Scott hopes to build the business of data conversion, using optical character recognition software specifically developed for Polyglot's Philadelphia operation. With libraries around the world turning card catalogs into digital files and archiving older titles in digital format, Scott sees a niche his firm can occupy.
Similarly, since Polyglot stores all of its titles digitally, users, primarily college and university professors, can custom build books based on topics, people, or eras. He cited Indiana State University's rapidly expanding Arabic language program as a possible client.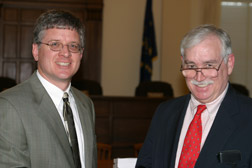 Most recently, Scott worked to publish The Last Judgment and World Religions, a book by Hall Peebles, professor of religion emeritus at Wabash. The book compares "death, judgment, heaven, and hell" from Eastern and Western religious perspectives.

Scott said he hopes that Wabash students and faculty will become involved with Polyglot's Crawfordsville arm, seeing opportunities for students to work on graphics, proofing, editing, and translation. While most texts are electronically scanned with optical character recognition software, much time and effort is spent making sure replication is true to the original form.

Zumer is pleased to have the first tenant of the Crawfordsville Commerce Park, but also sees an added benefit of Scott's connection to Wabash. "Hopefully Wabash students in the future will see Polyglot as an option for employment after their graduation."

Scott studied Spanish as a Wabash undergraduate. It was then that he realized how few foreign language titles are available in this country. He has been working with Gilberto Gomez, a Wabash Spanish professor, to publish a number of Spanish language titles previously unavailable in this country. Gomez has also worked to translate the titles into English.

Scott has also built partnerships with the Lew Wallace Study and Indiana Historical Society. Polyglot is nearing the end of a project in which it has published 13 books written by General Lew and Susan Wallace, complete with original artwork, retouched beyond the quality of the original books.

Scott's seven-year goal is to have published one million titles, a lofty goal as he points out.

Crawfordsville's goal — to fill a modern commerce park with small businesses, start-ups, and high-tech firms — is similarly lofty. But as Zumer pointed out, "We have moved beyond the realm of fantasy to the world of reality" by securing the first business.




For more information see: