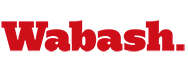 Marion Indiana Forms Wabash Association
by Tom Runge

January 26, 2005

January 24, 2005. Wabash has a new regional association! A group of alumni and current parents met for an initial luncheon at The Mill Restaurant in Marion, Indiana. Organized by Craig Miller '97 and Dave Callecod '89, the group intends to get together on a monthly basis for luncheon and want to become active in recruiting young men for Wabash. The initial group included two parents – Tom Cassidy and Connie Woods – both are parents of a freshman at Wabash.

Many thanks to Craig and Dave for getting the group going.



---
Wabash College • 301 W Wabash Ave • Crawfordsville, IN 47933 • 765.361.6100