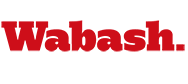 Waltz '96 Wins Indiana Senate Seat
by Howard W. Hewitt

November 3, 2004

Brent Waltz, a 1996 Wabash graduate, will join Secretary of State Todd Rokita '92 serving Hoosiers when the Indiana General Assembly convenes in January.

Republican Waltz claimed the Senate District 36 seat, which covers southern Marion and most of Johnson County, with a 15,937-12,041 win Nov. 2 over Democrat Terry Rice.

Waltz, 31, narrowly ousted long-time Senator Lawrence Borst in the spring primary.

The Wabash graduate is president of The Baron Group, an investment banking company. His only previous political experience was serving the past two years as president of the Johnson County Council.