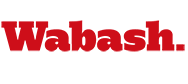 Ryan Champion Memorial Service Set for Thursday Night
by Jim Amidon

November 1, 2004

Get directions to Wabash College Chapel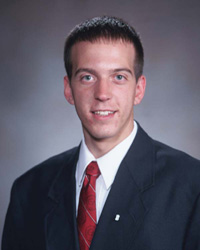 An on-campus memorial service for Ryan Champion, a Wabash College sophomore killed in an automobile accident Friday night, will be held Thursday evening at 7:15 p.m. in the Wabash College Chapel.
The memorial service will be performed by Champion's Beta Theta Pi fraternity brothers.
Champion and his Beta Theta Pi pledge brother, Brandon Ehrie, were returning from having dinner in Lafayette when a northbound vehicle crossed the center line and crashed into Champion's car at 7:55 p.m. Champion was pronounced dead at Home Hospital in Lafayette. Ehrie was treated at St. Elizabeth Hopsital in Lafayette and was released on Saturday.
Champion, known as "Champ" by his fraternity brothers, was a pre-med biology major and spent last summer as an intern in the Wabash Financial Aid Office. He also worked as a Student Assistant in the Wabash College Admissions Office, a position he held "since almost his first day on campus," according to Dean of Admissions Steve Klein. Most recently he was cast in the Wabash Theater production of "1776."
Expressions of sympathy can be emailed to beta@landrigan.com or to Chapter President William Goff, 513 West Wabash Avenue, Crawfordsville, Indiana 47933. They will be forwarded. Memorial contributions may be made to the Wabash chapter of Beta Theta Pi.
Champion's mother is Marsha Champion Tyler. He is survived by a brother, Isaiah Tyler of North Vernon; two step brothers, John Tyler of North Vernon and Curtis Tyler of Phoenix, Arizona; and one step sister, Tasha Tyler of Abilene, Texas.