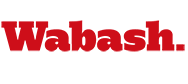 Wabash Set to Host Youth Football Clinic, Community Day
by Jim Amidon

September 14, 2004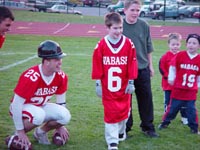 Wabash College invites members of the community to participate in two events to kick off the 2004-05 school year.
The Wabash football team will host its annual Youth Football Clinic this Friday afternoon beginning at 5:00 p.m. in Little Giant Stadium. Now in its fourth year, the Clinic gives young people an opportunity to meet Wabash football players and learn some basics about the game.
Kids of all ages are welcome, both boys and girls. Players will go through a series of drills and rotate through a variety of stations. Each clinic participant will also get a free photo of the football team that they can get autographed by players after the clinic.
Those same kids are invited to attend the Little Giants' home opener on Saturday at 1:00 p.m. when Wabash hosts Washington University of St. Louis.
There is no charge for admission to Community Day this Saturday. Friends are invited to bring a blanket and enjoy a free cookout on the college's mall. Serving will begin at noon.
"This is our sixth straight year of hosting Community Day," said Wabash spokesman Jim Amidon. "We hope families will take time to walk the Wabash campus, grab a hot dog before the game, and watch two really good football teams clash at 1 p.m."
Kids who participate in Friday's Youth Football Clinic are encouraged to wear jerseys to the game on Saturday, and to come to the field after the game to meet the players who worked with them Friday afternoon.
"What Coach Creighton and the team are doing with the clinic is simply amazing," said Amidon. "Since this program has started, it's gone from about 50 kids to over 200. We're excited to host the Youth Football Clinic and Community Day all in one weekend."
For information about the Youth Football Clinic, contact assistant coach Steve House at 361-6299 or houses@wabash.edu.