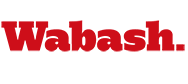 Wabash College Holds Its 166th Commencement Weekend May 15-16
by Karen Handley

May 10, 2004

Wabash College held its 166th Commencement on Sunday, May 16.

Receiving honorary degrees are James Edward Benecke, Jr. and Richard James Wood.

Benecke is a 1974 summa cum laude graduate of Wabash. He attended the Indiana University School of Medicine with internships and residencies at St. Vincent Hospital and the I.U. Medical Center. Before settling in St. Louis, he held academic appointments to Wayne State University, the University of California at Irvine; and the University of Southern California at Los Angeles, where he was named Teacher of the Year in 1987-88. He has also taught at the St. Louis University Medical School, in Hawaii, San Diego and San Francisco. Dr. Benecke, who specializes in otolaryngology and otology, has been on the Surgical Care Review Committee of the St. Louis University Medical Center; the Operating Room Committee of the Baptist Medical Center; and chairman of the Quality Assurance Committee in the Department of Clinical Neurosciences at St. John's Mercy Medical Center.

A graduate with high honors from Duke University, Richard Wood earned a Bachelor's of Divinity degree from Union Theological Seminary in New York and a master's degree and Ph.D. from Yale University. He is a member of Phi Beta Kappa and earned Woodrow Wilson and Danforth Fellowships, a Fulbright-Hays Research Study Grant for study in Japan, two GLCA Humanities Grants, and the Japan Foundation Senior Research Fellowship. From 1970 to 1979 he was director of the GLCA/Associated Colleges of the Midwest Japan Study Program, and later served as Vice-President of Academic Affairs at Whittier College in California. From 1985 through 1996 he served as president of Earlham College before returning, in 1996, to Yale University as Dean of the Divinity School. He retired from Yale in 2001.

Father Mike Reding, pastor of the Church of Saint Bartholomew and Wabash Class of 1986, will deliver the Baccalaureate sermon on Sunday.

Commencement speakers were two of the 181-member graduating class, Dustin R. DeNeal and Michael B. Bricker.

DeNeal is an English major and member of Phi Beta Kappa. A four-year member of the football team, DeNeal was active in his fraternity as president of Phi Delta Theta. He has been a frequent member of the Dean's List, was a Junior Marshal at last year's Commencement, and he received Distinction on his comprehensive examinations. DeNeal won the Walter Fertig Prize in English; the Irwin-Garrard Pre-Law Prize; the David W. Peck Medal for Promise in Law; the McLain Prize in Classics; and the Stephens-Hall Senior Scholarship. He is son of Charles and Susan DeNeal of Muncie, Ind.

Bricker is an art major and member of Phi Beta Kappa. He was active in Wabash College Theater and earned the Kenneth Kloth Design and Technical Theater Award and Phi Beta Kappa Prize for his excellence in scene design. A member of the Sons of Wabash, Bricker was a frequent member of the Dean's List and designer of two issues of Callimachus, the humanities journal. He received the Paul J. Husting Award in Art; the Randolph Deer Prize in Art; the Robert Harvey Journalism Award; finished second in the Nicholas Harrison Essay Award; and was named a Mackintosh Fellow. He is the son of Shirene Bricker of Indianapolis.