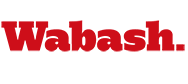 An Afternoon to Remember
by Brent Harris

February 5, 2004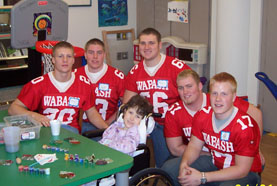 For 15 members of the Wabash College football team, Tuesday afternoon proved to be a memorable moment in their lives.
As part of their commitment to give something back to the community, these 15 Wabash men visited 20 children who are currently being cared for at Riley Children's Hospital in Indianapolis. The players spent over two hours visiting with children who may only spend a few days in the hospital to those who have lived there now for several months going through treatments.
"It was sad when we first arrived," said Billy King, a freshman from Arizona who knew nothing about the hospital before he made the visit. "The looks on the kids' faces just before we walked into the room were so disheartening. But to see the smiles break out when we came in made me feel better than I've ever felt scoring a touchdown or making a big play."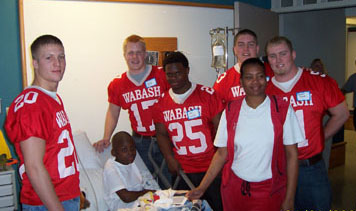 The Little Giants spent the afternoon playing various games with the children. One young man, Cedrick, got a chance to go one-on-one with freshman running back Aaron Lafitte, the North Coast Athletic Conference Newcomer of the Year, in video football. Junior Nick Williams, who helped organize the trip, spent the afternoon talking to a young girl and her family, just listening to their stories. The players left after signing team photos and leaving any items that the children wanted to keep to remind them of the visit.
"One little girl even wanted to keep the pen that I used to sign the photo," said Williams.
For the children, it was a chance to meet some of the football players from a team that they read about in the paper each week. For the players it was much more.
"Sometimes I think I take for granted what I'm able to do," said King. "I get the chance to go to school, to play football, to do what I want when I want to. These kids don't have that chance. It was great to spend time with them and, hopefully, make their day a little brighter. I'm looking forward to the chance to go back and see them again."
(Top photo, left to right - Wabash players Josh Foster, Jeff Williams, Sean Gerold, Hunter Fields, and Kyle Sell with a patient at Riley Children's Hospital)
(Bottom photo, left to right - Josh Foster, Kyle Sell, Aaron Lafitte, Jeff Williams, and Hunter Fields visit with Cedrick, a patient at Riley, and his mother)