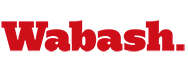 Thomas, Weedman Earn Tenure
by Allie Kirkman

December 11, 2020

Wabash College President Scott E. Feller announced the promotion and tenure of two faculty members. History professor Sabrina Thomas and art professor Matt Weedman have successfully completed the tenure process and will assume the rank of associate professor at the 188-year-old liberal arts institution.

"I congratulate Professor Thomas and Professor Weedman for this well-earned achievement," Feller said. "The excellence of our College is built on the excellence of the faculty, and our tenure process reflects very high expectations for teaching, scholarship, and leadership. I am grateful to Acting Dean of the College Todd McDorman and my faculty colleagues who put in the time and hard work – under difficult circumstances – to carry out the rigorous review process that our community expects."

There are numerous steps and requirements over a five-year period that a faculty member must complete to earn tenure, from participating in reviews and evaluations to presenting research and creative work. The promotion to associate professor not only acknowledges that the professor has demonstrated extraordinary merit and skills of special value to the curriculum of the College, but also expresses the College's confidence in the faculty member's promise of continuing excellence.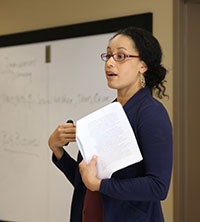 "I am feeling relieved and very happy that I earned tenure at Wabash College," Thomas said. "It is difficult to explain what Academics 'do' for a living to those who are not academics, but it is even more difficult to describe the pressures and the emotions of the tenure process."
Before joining the College's history department in 2015, Thomas had a dissertation completion fellowship at Middle Tennessee State University, was a teaching fellow at Arizona State University (ASU), and an adjunct lecturer at Arapahoe Community College. She earned her bachelor's degree in history from Colorado State University, master's in counseling from Butler University, and Ph.D. in U.S. History from ASU.
Thomas' research specializes in U.S. foreign policy with a transnational focus on the intersections of race, gender, nation, and war through the legacies of children born from international conflict.
"Sabrina is an excellent teacher, and what really sta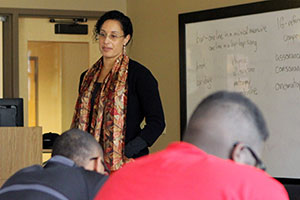 nds out about her teaching is how she is able to challenge students while also remaining supportive and fair," McDorman said. "It is a tough balance to be both, but she gets the most out of students and you can see that in the way they talk about her courses. She really opens up new doors, new dimensions, to students through her methods of teaching."
Thomas said she's thankful for President Feller, colleagues across campus, and the support and mentorship provided by the History Department throughout this process, specifically from Chair Richard Warner who "was especially instrumental in making sure I had the necessary support and guidance and that I made a smooth transition both into Wabash and towards tenure."
"Achieving tenure means a lot. I spent a lot of time feeling intellectually insufficient and unprepared to compete and to live within this career," Thomas said. "I am very glad that I was able to persist through my doubts and the various obstacles that one faces over such a long period of time. I am also thankful to the numerous students who I had the pleasure to teach who challenged me and forced me to be a better educator and scholar, even if they didn't know it."
Weedman joined the College's art department in 2015, teaching photography, video, sculpture, and performance. Before coming to Crawfordsville, he was a full-time instructor at Sam Houston State University. He also previously owned a successful event-photography business for 10 years and taught pre-scho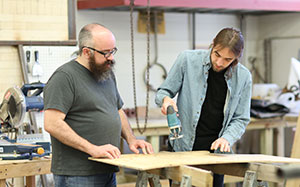 ol for seven years in Colorado.
He earned bachelor's degrees in digital media and film studies and his master's in sculpture from the University of Colorado.
"Shortly after we moved to Crawfordsville in 2015 and before starting the first semester, I broke my left foot and within one week of turning in my tenure document this fall I broke the right foot, so I'm fairly sure that's the key to navigating the tenure process," Weedman said. "Wabash's tenure process is challenging and more thorough than any of my peers at other institutions so it's hard not to feel a sense of accomplishment making it through successfully."
Weedman said his academic interests are "broad and insatiable," but most of his research is in performance and installation-based art, much of which uses photography and video.
"Much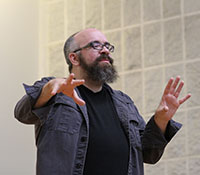 of my work centers around masculinity and consumerism," Weedman said. "However, I began performing magic publicly at age eight and I now see all of my work as branched from that desire to invest deeply in the mysterious nature of existence and encourage my audience to invest in their personal relationship with their inherent 'unknowingness.'"
Over the last couple of years, McDorman said it's been impressive for staff to watch how Weedman continues to open students' eyes to what art is and how anyone can be an artist.
"People see art differently because of his forces, and that comes through, student after student," McDorman said. "Matt helps students see themselves differently – he helps them see and reach their potential. He is very much there for students – wayward students in particular – trying to find their place, who maybe have struggled their first couple semesters, seem to find their way to Matt."
Weedman said he appreciates how supportive the community of students, faculty, and staff have been leading up to this accomplishment.
"One of the benefits of teaching at Wabash is getting to spend time with my brilliant colleagues who fascinate me and force me to always be my best, and its humbling to recognize that I am officially part of this community," Weedman said. "My overwhelming feeling or epiphany from the experience is how grateful I am for all that I have learned and the support across campus from faculty and staff to students and trustees."
Thomas' and Weedman's promotions are effective July 1, 2021.