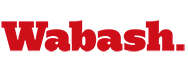 Ryder '71 Returns for Peck Medal/Lecture
by Ryan Horner

March 19, 2019

During his time as a student nearly five decades ago, John L. Ryder '71 remembers getting what he called a "Scarlet Inn education" on top of his more traditional Wabash learning.

This year, as keynote speaker of the Peck Lecture and recipient of the Senior Peck Medal for Eminence in the Law, Ryder took the chance to return the favor.

As a renowned Memphis bankruptcy lawyer who more recently served as general counsel to the Republican National Committee, Ryder likes to say that he first learned about self-government as a brother in Lambda Chi chapter meetings. Upon his return to campus for the Peck Lecture and Awards Banquet this year, he took the opportunity to spend a few days interacting with students in classes and, yes, during wide-ranging and educational conversations at Scarlet Inn.

Ryder, who received the Senior Peck Medal for Eminence in the Law, teaches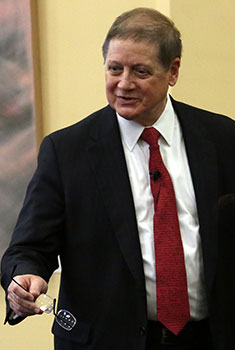 election law at his second alma-mater, Vanderbilt University Law School. In 2016, the Republican National Lawyers Association conferred upon him its lawyer of the year award; according to Professor Scott Himsel, Ryder is known for "handling difficult and divisive election law issues in an even-keeled and thoughtful manner."
During his presentation of the Peck Medal, President Gregory Hess praised Ryder for "your lifelong commitment to the law, your keen intellect and unquenchable thirst for knowledge, and your service to your community and country."
Ryder's public lecture, entitled "Rules, Parties, & Freedom: Inside the 2016 Republican Convention," provided a glimpse behind the curtain of the last election cycle's chaotic convention. He compared preparing for his role as a member of the Rules Committee to preparing for trial, and said it was his time at Wabash that instilled in him the habit of immersing himself in the intricacies of a matter.
"The process," said Ryder, who was recently approved by the United States Senate as a board member of the Tennessee Valley Authority, "is messy, chaotic, confusing, and cumbersome. It involves arcane rules and ancient questions. It's a system only a lawyer could love. And I do."
The David W. Peck Awards Banquet has been held each year since 1974 and serves as a unique opportunity for Wabash students interested in the law to meet lawyer alumni and to benefit from the wisdom of the Senior Peck Medal recipient. The event also recognizes student Prelaw award winners.
The event was established by long-time Trustee John P. Collett '24 in tribute to his dear friend and fellow Trustee David W. Peck '22. Peck enrolled at Wabash at age 16, graduated at 19, and had finished Harvard law by 22. He had a long and distinguished career as a judge and partner in the New York law firm of Sullivan and Cromwell.
Prelaw Society award winners were announced as follows:
David W. Peck Junior Medal—Erich Lange, '19
James Bingham Award—Will Amberger, '19, and Ian Finley '19
William Nelson White Scholarship—Ahad Kahn, '19
Joseph J. Daniels Prize in Constitutional Law—Will Osborn, '21
David W. Peck Senior Medal—John Ryder, '71