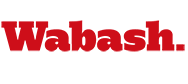 Unleashing Intellectual Firepower
by Christina Franks

January 27, 2017

When it comes to the Celebration of Student Research — the annual opportunity for students to show off the results of their studies and creative endeavors — there is a lot on display.

There are the large posters that line International Hall inside Detchon Center for three hours. There are the senior papers on display through oral presentations inside six classrooms.

It's a demonstration of Wabash education at its best. But it's the outpouring of support the students receive from faculty, staff, friends, teammates, and brothers that is the epitome of the Wabash experience.

Kyle Stucker '17 has participated all four years in the Celebration of Student Research, and says it's always a good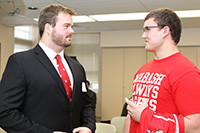 representation of the Wabash environment.
"It is very nice to be able to see your friends, your classmates, people who are older than you, people who are younger than you, come out and be genuinely interested in what you have to say," he said. "Maybe not even in the topic itself, but they want to hear you share your ideas and share your work. People care about each other, and because people care about each other, they're interested in what you're doing."
To make this kind of support available to students, Wabash cancels classes for the entire afternoon of the event.
"We cancel classes so the entire community can come together to support the students and demonstrate their commitment to the life of the mind," Dean of the College Scott Feller said. "The support that students receive from staff, faculty and peers is a strong statement on the nature of our community, one where student achievement is celebrated in every way."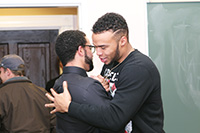 As Stephan Jones '17 prepared to give his oral presentation about a Spanish novel and its depiction of the life in Valparaíso, Chile, his football teammates and Lambda Chi brothers filled every seat in classroom. After he was finished, they made a line to exchange handshakes and hugs,congratulating him on his work.
"That felt really good," he said. "I felt loved. I am so glad they came and supported me. Some of them had to be there for their own classes, but a lot of the guys that came just wanted to see me present. They wanted to see what the people who they live with, work out with, and practice with have been doing for the past semester. It's proof that this is a brotherhood here."