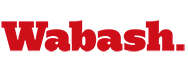 Kevin Kling and Simone Perrin Set to Perform Monday
October 8, 2014
Wabash College's Visiting Artists Series will present Kevin Kling and Simone Perrin at 8 p.m., Monday, October 13, in Salter Concert Hall in the Fine Arts Center.
Kevin Kling, best known for his popular commentaries on National Public Radio's All Things Considered and his storytelling stage shows like Tales from the Charred Underbelly of the Yule Log, delivers hilarious, often tender stories. Kling's autobiographical tales are as enchanting as they are true to life: hopping freight trains, getting hit by lightning, performing his banned play in Czechoslovakia, growing up in Minnesota, and eating things before knowing what they are.
Joining Kling will be Minneapolis-based theater actress, composer, vocalist, and accordionist, Simone Perrin, who has been featured on A Prairie Home Companion.
The Visiting Artist Series is funded in part by the Tippecanoe Arts Federation, the Indiana Arts Commission, and the National Endowment for the Arts.
Seating for Visiting Artists Series events is by general admission, though free tickets are required.
Contact the Fine Arts Center Box Office by email at boxoffice@wabash.edu; or phone: 765-361-6411. The box office will open 90 minutes before curtain time for Visiting Artists events. Tickets not claimed at the Box Office 10 minutes prior to curtain will be released to the general public.