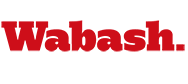 Wabash's Secondary Licensure Accreditation
July 3, 2014

The Secondary Licensure Program in the Department of Education Studies at Wabash College is hosting a state accreditation visit by the Indiana Department of Education in December, 2014. Interested parties are invited to submit third-party comments to the visiting team. Please note that comments must address substantive matters related to the quality of professional education programs offered, and should specify the party's relationship to the Secondary Licensure Program at Wabash College (i.e., graduate, present or former faculty member, employer of graduates).

You are welcome to use any of the following statements as a way to organize your comments:
As a (graduate, cooperating teacher, Secondary Licensure Committee member, employer of a graduate, etc.), I would describe Wabash College's teacher preparation program as...
Wabash College' Secondary Licensure Program is distinctive because...
I have observed or worked with Wabash College's teacher candidates and/or Education professors and found them to be...
Secondary teacher preparation at Wabash College is effective because...
Please address your comments to:
Indiana Department of Education
Coordinator of Educator Preparation
Office of Educator Licensing & Development
South Tower, Suite 600
115 W. Washington Street
Indianapolis, IN 46204
Or email to: eel@doe.in.gov