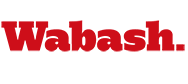 Alumni Support Shines at Top 10 Visit Day
by Richard Paige

February 17, 2014

Eighty high school seniors were on campus today to get a first-hand look at how Wabash College could shape their future during the annual Top 10 Visit Day.

From California to New Jersey and South Texas to Michigan, students trekked to Wabash to immerse themselves in a day of lectures, alumni panels, lunch, and the classroom experience.

Wabash's Top 10 program spotlights students who rank in the top-10 percent of their high school graduating class. That accomplishment in addition to their attendance today qualifies admitted students to an annual scholarship of $17,500.

"You have guts and curiosity," Wabash President Gregory D. Hess told the students in attendance. "You are bright, talented, creative, and athletic. And you have choices. At Wabash, we will make one promise: to take you seriously."

David A. Broecker '83, founder of Legacy Biosciences, delivered the keynote address to students and parents. He touched on the significance of the day and its impact on the future.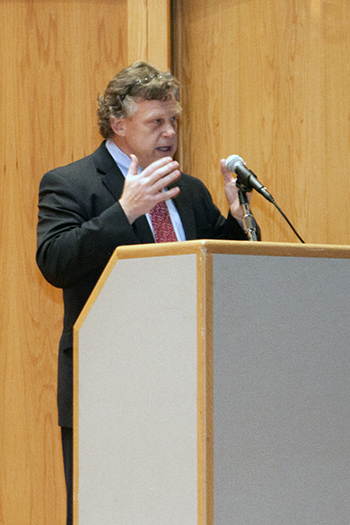 "What you are doing today is most important in your college decision," Broecker said. "You must picture yourself in the classroom. Is Wabash the place for me? Take advantage of the day and make it a really productive one."
Broecker acknowledged that the world continues to change rapidly, and that change is happening much more quickly than it was when he graduated 31 years ago. He feels that Wabash is an excellent proving ground in a challenging environment.
"We take pride in preparing students to be world beaters," said Broecker. "There is rigor to this, but there is a supportive and understanding faculty. Successful people can navigate a big, crowded world by cutting out the noise and identifying what's important. We prepare you for change."
Following Broecker's address, the students and their parents separated for presentations featuring a number of alumni panelists.
Jon Haug '00, senior director and assistant treasurer at Eli Lilly, Inc., praised the learning environment and the ability to solve problems.
"Wabash teaches you to love learning and how to think. You have to think and put entire problems together," said Jon Haug '00. "The learning process matters here."
Two panelists focused on the strength of relationships as a benefit. Sam Starbuck '12 spoke of the relationships with your fellow students, while Reed Hoyer '03, mentioned the renowned Wabash alumni network as a point of pride.
"Relationships are the best things gained from the Wabash experience," said Starbuck, a management fellow at Cancer Treatment Centers of America. "Those relationships are ongoing and forever and make the experience what it is."
"We have a dedicated alumni network that is invested in the College and wants to see success grow," said Hoyer, an orthopedic surgeon in Bloomington, Ind. "It's tight-knit and a large percentage of our graduates succeed."
"Professors at Wabash will take you on an academic journey," said Broecker. "The best education will prepare you for anything and everything."
Participating alumni panelists included Brandon Clifton '05, Deputy General Counsel, Indiana Department of Administration; Jon Haug '00, Senior Director and Assistant Treasurer at Eli Lilly and Company; Reed Hoyer '03, Orthopedic Hand and Upper Extremity surgeon; Patrick McAlister '10, Network Coordinator for Teach Plus; Jeremy Robinson '04, educator in Chicago; Sam Starbuck '12, management fellow, Cancer Treatment Centers of America Oscar Torres, '01, educator in South Texas; and Brad Vest '11, team leader, Apparatus, Inc.