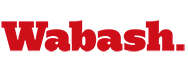 Bachelor Publishes Special Inauguration Issue
January 25, 2007

Wabash College's student newspaper The Bachelor has published a special Patrick White Inauguration Issue.

The student journalists began planning in November for the special issue which was inserted into the regular Jan. 25 edition. Additionally, the students continued the partnership with the Crawfordsville Journal Review which began in the fall with a Back to Campus issue. The Journal Review inserted the special section into its entire circulation Thursday morning.

Senior Adam Hawkins, Bachelor news editor, headed up the special section with Bachelor reporters, including a big group of freshman writers.

You can see the entire Inaugural issue in PDF format by clicking here.