September 28, 2004

by Jim Amidon '87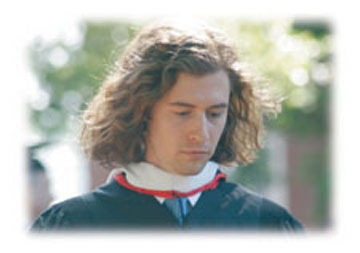 Thanks to a short-lived virus, Jeremy Robinson '04 sounded like a cross between Darth Vader and Kathleeen Turner when he walked into the Saks Fifth Avenue corporate office of CEO Fred Wilson '69. He waited patiently until Wilson's assistant escorted him into the Manhattan office with floor-to-ceiling windows on both sides. He was nervous when he sat down across from Wilson, who hung up the phone and asked, "So, Jeremy, what can I do for you?"
Robinson, now a Phi Beta Kappa and summa cum laude graduate, had met Wilson in January at the Celebration of Student Research, Scholarship, and Creative Work. Wilson took interest in Robinson's creative remake of the humanities journal Callimachus, so Robinson promised to send copies of the journal to him when it was printed. Later he realized that he'd be in New York City in March on an immersion learning trip with an English class and made an appointment to drop off the copies in person.

Dressed in his new "interview suit" but with very little voice, Robinson told Wilson about his plans to work in either the Teach for America or New York City Teaching Fellows program.

"Throughout the entire conversation, I sat there wondering, What am I doing here?" Robinson recalls.

He also vividly remembers Wilson's parting comments: "I want you to promise me that when you're in a seat like mine and a Wabash College student calls for advice, that you'll do as I have done." Robinson gave his word with a nod, and Wilson smiled his approval.
"We all have this collective

experience of Wabash. We

know what each others'

experiences were like and we

can talk about it. having

Wabash in common makes

my brothers and I closer,

more intimate."
"If things don't work out for you, call me and I'll give you a job," Wilson said. "How does that sound?"

The offer of a job left Robinson buzzing. But what happened next took his breath away.

"I told him I wanted to walk through the Saks Fifth Avenue store, and since he had a meeting there, he went with me. As we walked down 47th Street, he put his arm around me and pointed things out to me. He then opened the first set of doors and told me that this store alone did $550 million in sales last year. I was suddenly blown over with sensory overload."

Robinson swears it wasn't the bigness of the situation that struck him deeply. He says it was Wilson's genuine concern for him, his advice, directness, and charm that taught him about Wabash and alumni.

And it's not like Robinson needed the primer. His brothers Josh and Ben preceded him as summa cum laude graduates of Wabash and members of Delta Tau Delta. He admired Josh, six years his senior, like any middle school kid does when he visits big brother in college. But he overlapped with Ben's time at Wabash, and he saw the profound effect the College had on him.

"We all have this collective experience of Wabash," he says. "We know what each others' experiences were like and we can talk about it. Having Wabash in common makes my brothers and me closer, more intimate. The Wabash experience by itself is so intimate, so emotional, so life-altering that it clearly has intensified our relationship as biological brothers."

Family means a lot to Robinson. His mother, Terry, who after her divorce raised four boys and a girl on a second-grade-teacher's salary, remains his role model. He wants to be a teacher both in tribute to his mother and because he sees great inequity in public school system. He says, "Where you were born determines what kind of education you will receive. Teach for America is trying to change that by bringing the best and brightest college graduates to underserved communities."

Robinson won a Lilly Fellowship to Wabash that eased the financial burden on his mother. But by no means did that guarantee that he would attend the College. He wanted something more, something different than the education his brothers knew, so he looked East.

"But I kept coming back to my brothers," he recalls. "Their lives were transformed by this place and its people. I found that I could not avert my eyes from their successes."

So he enrolled, pledged Delt, played a little soccer, chose to major in English and Spanish, and excelled in the classroom. He began to consider a career in teaching as a sophomore when then-Writing Center director Helen Hudson suggested he read the book One Day All Children by Wendy Kopp, who founded Teach for America. "Kopp's thesis is that education is the great equalizer," he says. "My brothers and I grew up without a lot of money and all graduated from Wabash, so the book really hit home for me."

Brother Ben convinced him to study abroad and to do so for all of his junior year, and he chose the University of Salamanca in Spain, the world's fourth-oldest university. His year there helped him polish his Spanish, and he says experience "a city small enough to retain its old world Spanish feel, but modern enough with a youthful population to make it special."

The Robinsons--Ben '01, Jeremy '04, and Josh '97: "The Wabash experience by itself is so intimate, so emotional, so life altering that it clearly has intensified our relations as biological brothers."
"Wabash gave me a voice, but Spain gave me the confidence to use it," he says. "Spain empowered me and enlarged my vision of the world." He capped the year with a pilgrimage to the Santiago de Compostela in the north of Spain. He and a friend trekked 160 miles over 11 days to retrace the footsteps of millions of pilgrims who have made the trip since the early Middle Ages. The scallop shell that hung from his backpack indicated that he was part of the huge community of pilgrims on the "path of St. James," and the credential issued by the Spanish government proves he covered the distance. The pilgrims' lessons endure.

"Every day you wake up with a destination, a goal, and you have to get there or you sleep in the middle of nowhere. Getting up every day with a goal gives you such a sense of purpose, that I have tried to apply that to every day of my life. Daily goals keep me from wandering aimlessly," he says.

Such discipline drove a wildly successful senior year at Wabash. As editor of Callimachus, he completely rebuilt the humanities journal, gathered dozens of quality submissions, and printed it in color for the first time in years. He got distinction on his comprehensive exams, won the Walter Fertig Prize in English and the Nicholas Harrison Essay Award, and earned the Robert S. Harvey Outstanding Editor Award.
Robinson says he has a great relationship with his father, Dan, but that his mother "is an enormous guiding light" in his life. He continues to search for a male figure who can "stand the same ground as my mother." Reading the Marian Wright Edelman book A Memoir of Mentors has helped him realize the profound effect his Wabash mentors, especially professors Warren Rosenberg and Bill Placher, have had on him.

"The intimate connections with my professors have changed my life. My interactions with professors Rosenberg and Placher were few in number, but rich in experience. They challenged me to think more deeply, to listen more carefully, and to live a life of service. I draw from my experiences with them every day of my life.

"Spiritually, Wabash helped me to become more at peace with who I am and my ability to thrive in whatever surroundings I'm in," he says. "Wabash is a sanctuary where you can think deeply for four years."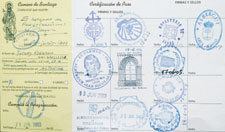 Traveling with Rosenberg to New York as part of the English 350 class both expanded his horizons and made him more aware of the brotherhood of Wabash. He barely knew the guys he traveled with, and now regrets limiting his close relationships to his fraternity brothers during his first three years at Wabash.

"New York is like a drug; you're there and you're high all the time. It breathed life into me in a way I had not felt since studying in Spain. It made me reevaluate myself in whole new ways. To see waves and waves of human beings with such different views and ways of living was a very healthy spiritual experience for me."

When he returned and had made the decision to spend two years of his life in Chicago with Teach for America, his life began to come into focus. Then his fraternity brother, Tony Lobdell '05, went missing while studying in Argentina, and the focus became crystal clear.

"Tony's death codified my relationship with the guys at Delt," he says confidently. "We all came together when he disappeared and began to question how we were living together. It made us realize that we are all human, all vulnerable, all mortal, and all flawed. But it also showed us that we're all trying to live a good, humane life.

"Tony was such a warm person that his death made us think about who we want to be in life. Tony made many of our experiences in the Delt house more meaningful. To reflect on Tony is to reflect on how to live your life better."
Six months ago, Jeremy Robinson chose to make the lives of Chicago public school children better, and he turned down a possible career with Saks Fifth Avenue in the world's most exciting city, a city that seduced him. But shaped by his family, his Wabash brothers, and his mentors, Robinson is just as excited to share the lessons he's learned.

He learned the most profound lesson when his friend Tony died in Argentina: life isn't the salary you earn, it's the people you touch. Ironically, working through issues of mortality has made him more patient. He knows he'll one day make the big bucks and wear the nice suit. For now, he wants only to open the hearts and minds of young people so that they might have the same opportunities that enriched his life. In his own way, Robinson already is fulfilling that promise he made to Fred Wilson.