July 21, 2004

When I walk to Center Hall in the morning, I pass the "Senior Bench." Officially called the Thomson Memorial Bench, the limestone memorial was carved by the same sculptor who created the Soldiers and Sailors Monument in Indianapolis. Dedicated Commencement Weekend of 1905, it honors members of the Thomson family, great uncles of Dick Ristine '41 and ancestors of Dan Ristine '05. James Thomson was a co-founder and trustee of the College; John taught math and served as a trustee; Samuel taught Latin here for 39 years; Alexander was treasurer and a trustee for 55 years; Henry taught chemistry; Everett was the librarian.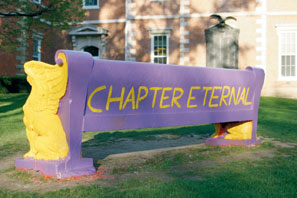 Even our archivist isn't certain when students began painting the bench. I've seen photographs of "Elmore Day" painted there in 1975. Long before I arrived here, pledge classes were painting and then guarding the bench in an exercise of teamwork and, occasionally, some artistry.
But on April 29, 2004, the bench became a place of remembrance again. You don't walk by it now without thinking of Tony Lobdell.

Tony was a Wabash junior on spring break from his studies in Argentina. You'll read more about him in this magazine, but his friend and fraternity brother Ken Shelton '04 put it well when he described Tony as "a great friend; perhaps the greatest of friends…who did everything to the best of his ability, stayed true to himself, and was great at just living."

Tony's friends and fraternity brothers didn't want us to forget that. So on the same day that they called us together in the Chapel for a memorial service for their missing brother, they painted his initials on the front of the Senior Bench, "Chapter Eternal" on the back, and tears in the eyes of the bench's griffon sentinels. One by one they knelt at the same bench many had once painted and guarded with Tony, and they wrote their final messages to him.

There is no comforting a mother and father who have lost a child. Our minds and hearts aren't wired for such a loss. The chronology is wrong; the world itself feels out of order. But Tony's parents and family were touched by these acts of love. All of us were moved by these friends' determination and words at a memorial service inside the building where as freshmen they had yelled "Old Wabash" with Tony. They gave strong voice to his memory.

Most years, seniors returning early paint the bench, and the traditions begin anew. I wonder who will do it this fall. Who will mark the end of the grieving season and the start of a new year? Probably Tony's newest fraternity brothers.

For now, the bench is a remembrance, as it should be. I hope that summer visitors walk by, wonder at the painting, and look at the inscriptions beneath. I hope they read the messages so recently added and ask themselves: What is this place where an individual means so much? Who was this young man whose death brought such sorrow, but whose life inspired such devotion?