March 30, 2004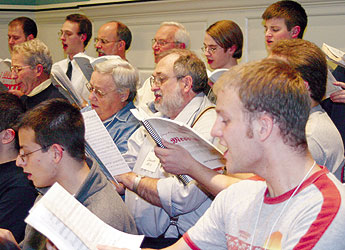 If you are among the generations of alumni who sang with the Crawfordsville Community Chorus, these pictures may stir fond memories: the musical enthusiasm of Glee Club Director Bob Mitchum H'59, Crawfordsville residents who became your friends, and the beauty of powerful soprano and alto voices blending with tenors and basses in the College Chapel.
Montgomery Superior Court Judge Dave Ault '70 remembered those days well. So when he was reminiscing with Wabash religion professor David Blix '70 at the wedding reception for music professor Judd Danby, he wondered aloud if there was a way to revive the once-thriving Wabash tradition. Blix pointed across the room to Richard Bowen, the Wabash director of academic enrichment who had masterfully directed the Glee Club during Professor Larry Bennett's sabbatical.
"That's the man who could lead it," Blix told Ault. And the two approached the unsuspecting Bowen with a proposition.
Ault, Blix, Kurt Homann '74, Bowen and his wife, Eileen, College nurse Sheila Evans, and Janice Clouser formed an executive committee, and the next spring the new Community Chorus performed Faure's Requiem.
But the prize for Ault and Blix was to bring Handel's The Messiah back to the Wabash Chapel. In September, the group, including nine Wabash students, began practicing the piece. Blix admits to some nervousness during rehearsal.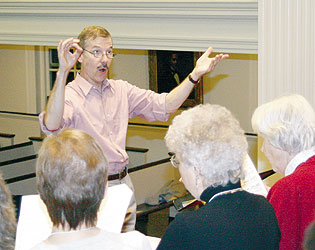 "Even just a couple of months ago, we were really struggling," Blix recalls. "And Richard was sweating bullets. But he stuck with us and pushed us, and about a month ago, it started coming together. We knew how far we'd come when we heard ourselves in the Chapel for the first time at final rehearsal. My jaw dropped when I heard it there."
The audience at the group's performance December 14 was similarly impressed, offering a rousing ovation to the beaming ensemble. Performers and audience alike reveled in a truly revived Wabash/Crawfordsville tradition.
Except for Judge Ault. The man who sparked the revival and had made every rehearsal was at home with the flu. Consider the performance Ault's Christmas gift to Wabash. And count on seeing him and the rest of the chorus there next year.