December 17, 2003

Wabash College linebacker Nick Fanelli had seen pictures of German castles. He had read about the atrocities that took place at the concentration camps in Germany and Poland during World War II.

But during the Little Giant football team's trip to Germany and Austria this past summer, Fanelli and 42 other players experienced those places firsthand on an eight-day immersion-learning trip to Germany and Austria, topped off with a football game against the Chrysler Vikings of Vienna.

"I never planned on studying abroad, even when I came to Wabash," Fanelli says. "But I jumped at the chance to go on this trip, and I'm so glad that I did. I was been blown away with what I saw."

A few moments from what many returning players called "the trip of a lifetime."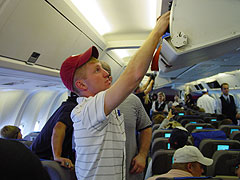 Stowing Gear
Photo by Mike Warren
Kicker Mark Server '06 puts his gear in the overhead bin as the trip begins in Indianapolis. For a few Wabash players this was the their first trip by airplane. For others it was the first time they had ever left the United States.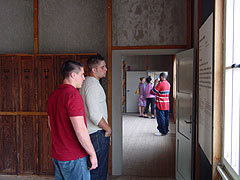 IN THE DEPTHS
Photo by Mike Warren
Josh Mills '05 (left) and Nick Williams '05 read one of the placards in a prisoner barracks at Dachau.
"There's an overwhelming feeling of sadness and awe that sweeps over you here," wrote sophomore Brandon Roop. "I felt it when I first walked into the camp. Watching the footage of some of the events that took place was extremely moving."
"It puts playing football or any problems that you think you might have in perspective," says senior tight end Nick Dawson. "It's just indescribable, and profoundly sad."
"The bus ride back to Munich from Dachau was extremely quiet," recalled Elliott Vice '05.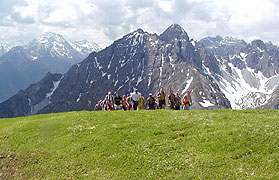 AT THE SUMMIT
Photo by Rick Roop
The Wabash players spent a day hiking to the top of the Austrian Alps. The Little Giants reached the top of an 8,000-foot summit and sang "Old Wabash" before beginning the trek back down.
"Coach Creighton challenged us to make it to the summit as a team," Elliot Vice wrote in his journal. "The climb was much tougher than any of us could have imagined, but with patience, encouragement, and perseverance, we made it to the top together.
"Growing up in small town Indiana, climbing a mountain had been a childhood dream of mine. But climbing this one in Austria with my best friends was a day that changed my life."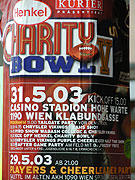 Game Time
Photo by Rick Roop
A poster outside the stadium announces the Little Giants clash with the Vienna Vikings at the annual Charity Bowl. Wabash fell to the host Vikings in a hard-fought contest.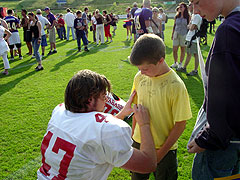 Signing Autographs
Alex Barefoot '04 signs the shirt of one of the Austrian youngsters at the game. Barefoot spent the spring semester in France and England before joining his Wabash teammates in Germany for the overseas trip.
As Vice remembers: "After the game, we had dinner, listened to music, and socialized with many of the Vikings players, cheerleaders, and fans. As the trip progressed and I enjoyed the hospitality of so many friendly people, I realized that our objective was not just team-building, not just playing a football game, and not just learning about another culture. We were also ambassadors for the United States—with every person we talked to and every autograph we signed, we touched someone else's life and left a positive impression of America."