March 31, 2003

Get directions to Wabash College Center Hall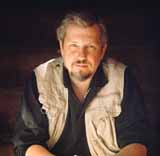 Dan Simmons
Crawfordsville, Ind. — The public is invited to a reading at Wabash College by Dan Simmons, internationally acclaimed and award-winning writer of horror, fantasy, science fiction, noir crime novels, screenplays, and literary fiction. Simmons' reading will take place on Monday, April 7 in Center Hall, Room 216 at 8 p.m.
Simmons was born in Peoria, Ill. and grew up in various cities and small towns in the Midwest, including Brimfield, Ill., which was the source of his fictional "Elm Haven" in 1991's Summer of Night and 2002's A Winter Haunting.
Simmons received his B.A. in English from Wabash College in 1970, winning a national Phi Beta Kappa Award during his senior year for excellence in fiction, journalism, and art.
He received his masters from Washington University in 1971. He then worked in elementary education for 18 years. During his years of teaching, he won awards from the Colorado Education Association and was a finalist for the Colorado Teacher of the Year. He also worked as a national language-arts consultant, sharing his own "Writing Well" curriculum which he had created for his own classroom.
Simmons first published story appeared on February 15, 1982, the day his daughter, Jane Kathryn, was born. He's always attributed that coincidence to "helping in keeping things in perspective when it comes to the relative importance of writing and life."
Many of Simmons's books and stories have been optioned for film, and current discussions include plans for such books as The Crook Factory, Darwin's Blade, the four Hyperion novels, his story "The River Styx Runs Upstream," and his original screenplay for The End of Gravity. He also has written two teleplays which were produced for the low-budget syndicated TV series Monsters and a screenplay adaptation of Children of the Night in collaboration with European film director, Robert Sigl, with whom he hopes to adapt his 2002 novel, A Winter Haunting.
In 1995, Wabash College, awarded him an honorary doctorate for his contributions in education and writing. Simmons, who often includes subtle references to Wabash in his fiction, is also the founder of the Wabash College Hockenberry Summer Internship, a unique eight-week residency offered annually to the junior who has demonstrated excellence in fiction writing and outstanding dedication to his craft. Simmons established the award in 2000 to honor the memory of his Wabash classmate Duane Hockenberry.
Simmons' lecture is free and open to public.