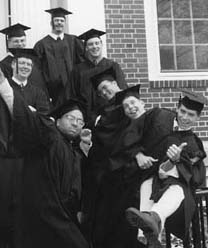 Deon Miles (lower left) clowns around
with fellow chemistry graduates.

our short years ago, Deon Miles was asleep in his home in Gary, Indiana when the phone rang. It startled him, and at first he wasn't sure if he should answer the call or not. On the other end of the line was Walter Blake from the Wabash Admissions Office ready to give Miles the hard sell on why Wabash was "worth it."

"He started telling me about Wabash and how successful the College was at getting men into graduate and medical schools," Miles explains. "He was determined to tell me all about what a great place Wabash is. I'm sure glad I woke up from that nap."

Fast forward four years and Miles is positioned behind a podium at the east end of Chadwick Court, addressing more than 1,500 people at the 1997 Commencement ceremony. A chemistry major, Miles describes in great detail how he "found his place at Wabash" in his remarks to his fellow graduating seniors, their families, and the alumni gathered in the steamy gymnasium. Indeed, Miles found a place for himself in virtually every organization that would have him during his four years on campus, and he leaves not only well rounded, but focused on the next stages of his life.

"I'm headed to North Carolina-Chapel Hill to study chemistry and get my Ph.D.," Miles says. "I hope to go on after that and teach at a small college, and slowly but surely, one day I'd like to be a college president. While I think I'll like teaching a lot, I'd like to have the opportunity to be more influential in shaping the minds of young people; help put programs together and put people in place to have a larger effect on the undergraduate experience."

On paper, Miles' undergraduate experience looks as though he tore a page from the College's viewbook and decided to try everything listed. He was a member of the Malcolm X Institute and participated in that group's KQ&K Mentoring Program for local youths. He was also exceptionally active in intramurals, and even initiated a section in The Bachelor that dealt solely with intramural competition.

But the experience that most defined Miles for many of his friends was his four year run as do-everything manager of the Wabash basketball team.

"Basketball for me was so much fun," he says, "and it was something to do to get away from the rigors of the classroom. And it helped instill in me a stronger sense of responsibility. I knew I had to be there everyday because so many people were counting on me to get things done. Beyond that, the whole behind-the-scenes experience taught me so much. I got to see first-hand how the players prepared both their minds and bodies for competition, something most people don't ever see, and I can use that knowledge for the rest of my life."

Even asleep on the couch at his home four years earlier, Miles could in no way have dreamed up a better senior year. Sure, the basketball team's 24-5 record, ICAC championship, and run into the second round of the NCAA playoffs was nice, but there was more.

"Winning the championship put a great cap on my Wabash experience, even though I never got to play a single minute," he explains, knowing he very nearly missed that opportunity. "When I came to Wabash, I told my mom that I'd give it a try for a couple of years. After my sophomore year, I was about one signature away from transferring out of here. I don't even know why I decided to stay at Wabash, but I'm very blessed--and that's the best possible word to use--that I didn't leave because I had a good junior year and a great senior experience."

Few Wabash seniors earned as many academic honors as Miles, who captured the Angus-Scientech Award for excellence in science and math, the Treves Award in Science, the Howell Chemistry Scholarship, and, among others, the Britton Memorial Award for the outstanding chemistry student headed on to graduate school. He was also honored as the WCVL Radio Community Service Award winner for the spring of 1997. Shortly after that, he began to hear from the nine chemistry graduate schools he had applied to. He was accepted at all nine.

"I guess that says, number one, that Wabash prepares you well for going on to higher and better things. But it also says a lot about the professors, because they help put you in the position to move on from here. For me, Dr. [David] Steyert was instrumental in helping me get a chemistry internship at Mississippi State, and that research experience played a key role in my acceptance to all of the schools I applied to," Miles says.

In his Commencement address, Miles spoke of finding his place at Wabash. Indeed, whether it was on the third floor of Martindale Hall, where he lived all four years at Wabash, the studios of WNDY, or his behind-the-scenes presence with the Wabash basketball team, few students have ever found so many places to call "home" while at Wabash. "Coming from Gary, you'd think that I might have had a hard time adapting to basically an all-white situation at Wabash," Miles says. "But my mother, Ann Nita, taught me to respect those people who respect me--regardless of color--and with that attitude, I had no trouble at all adapting to life at Wabash. In fact, the whole experience has made me much, much stronger."

Now Deon will trade in his pair of Wabash red and white Reebok basketball shoes for a pair of North Carolina blue and white sneakers. His loyalties may shift from Coach Petty and the Little Giants to Dean Smith and the Carolina Tarheels, but he'll continue to be Wabash through and through. "Going to another part of the country, meeting new people, and going to a good grad school in chemistry makes me very excited--it's a great opportunity for me," he says. "But I sure will miss Wabash."