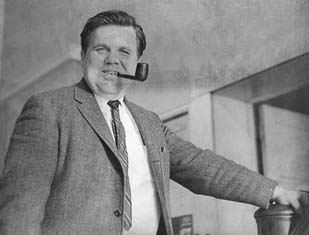 Professor of Speech Joe O'Rourke, 1963.

he scene is a celebration spanning four generations of Wabash men. Friends, faculty, students and formers students from the years 1934 through 1997 have gathered in the warm ambience of the Caleb Mills house on a cold, early spring evening to pay tribute to Professor of Speech Joe O'Rourke with some good-natured jabs and heartfelt appreciation. Papa Joe is retiring after 37 years of teaching Wabash students and coaching debate teams, among other duties, and his colleagues have come to send him off in style.
Wabash Director of Public Affairs Jim Amidon '87 serves as master of ceremonies from behind a podium bedecked with photos of "Papa Joe" from various eras of his tenure. A former student of O'Rourke's, Amidon smiles as he promises to speak with "room-filling energy" as he offers highlights of the professor's work as a teacher, his contribution to the state and national Speech Communication Association, as faculty athletic representative to the NCAA, and as the organizer of the American Association of Irish Studies conference in 1996.
Then Kass Kovalcheck '65, a member of the legendary debate team that O'Rourke coached to the 1963 National Championship and currently a professor of speech at Vanderbilt University, steps to the podium.
"I'm pleased to go first because I have all of the good stories," Kovalcheck jokes, then unwinds a string of tales that highlight his former professors infamous frugality.
"On the way home [from winning the national championship] we stopped somewhere near Anderson," Kovalchek says, barely containing a laugh. "As we got out, Joe said 'Live it up boys--buy yourselves a $2 steak. I'm proud of you.'"
The room breaks into laughter as Kovalcheck tells a few more stories. Then his tone of voice becomes more serious:
"I've often reflected on my time at Wabash--Joe's cheer, his laugh...I would have to say that whatever relationship I have been able to have with my own debaters and students, it's unquestionably because of the model and inspiration Joe provided on how you ought to deal with students and faculty--the understanding of how you can still be friends in spite of the fact that one of you is a student and one is a faculty member, and I'm pleased to be here tonight to pay tribute to Joe."
Kovalcheck shakes his mentor's hand as former chair of the Indiana University speech department, Jeffrey Auer '34, takes the podium and recalls the first time he met O'Rourke during a speech contest Auer was judging at Columbia University in the late 1950s.
"I recognized this young man and I said, 'He'll go far.' The only problem is what direction," Auer says. "Lo and behold, he wound up here at Wabash, and it's been a joy to know him."
Current chair of the Wabash speech department David Timmerman is the next speaker, describing the camradarie he felt with Joe O'Rourke even as he was giving his presentation as a candidate for a professorship here.
"I looked out and saw Joe listening and smiling, and I realized that he understood what I was trying to do, and I knew that I could be at home here."
Professor Timmerman holds up an old letter which he says "reveals the roots of the Joe O'Rourke--Vic Powell connection." The letter is dated March 7, 1960, and is from University of Oregon Professor of Speech Bower Aly, friend of Wabash speech department legend W. Norwood Brigance, to then chair of the Wabash College Department of Speech Vic Powell. It is a recommendation letter for a young speech candidate named Joe O'Rourke. Timmerman reads from Aly's letter:
"This may be mere sentiment, but one reason why I take special pleasure in recommending Joe O'Rourke to you is that of all the young men I know he is in some respects the most like our friend Brigance...He is completely, even transparently honest. He is direct, forthright, likeable, and full of the energy and enthusiasm of scholarship and real learning. He is a man's man."
Timmerman closes the letter and turns to his mentor:
"'A man's man.'" he says. "That may not be politically correct today, but it captures you fully, Joe."
As the group applauds, Crawfordsville businessman Larry Cummings '64 steps to the podium and quickly to the point:
"When I think of Wabash, I always think of the words 'Wabash Always Fights' emblazoned in big, red letters. It was that tremendous spirit that brought me here as a student, and if anyone embodies that spirit, through debate and through his gift of teaching, it's Dr. O'Rourke."
Tony Basch '96 remembers the time Professor O'Rourke offered to pay the student's way so that he could debate at the national tournament, and then former national champion debater and Kass Kovalcheck's teammate Len Clark '63, provost at Earlham College, takes his turn:
"My career has been one of defending and articulating the reasons behind liberal education. I believe deeply in it, and I learned to appreciate it at Wabash. One of the keys to the genius of liberal arts in this country is that young people get to know human beings, and not just professors. And first with Vic Powell, and with Joe O'Rourke, I got to know people who lived lives of integrity, and that integrity and sense of purpose was smoothly integrated into their vocation.
"Joe was never simply a speech teacher; neither was Vic. They have both been people who revealed a sense of commitment, a sense of steadiness of purpose, and a sense of love and caring for the students that they taught. They did all that while teaching us the craft of speech and debate.
"The most important thing I carried away from Wabash was that understanding of the seamlessnes of a life and vocation well-lived."
Speech professor and current debate team coach Suzanne Walker thanks both Bev and Joe O'Rourke:
'"Over the past four years you have taught me so much, and I will always value the time that I've had you as a colleague. I owe you and Bev so much--you've treated me like family."
Andew Kerr '96 concludes the remarks from former students: "I think I'm going to have a hard time envisioning a speech class at Wabash without 'The Papa.' Whenever I'm giving a speech in the future, I think I'll always be listening for that gravelly, basso profundo voice from the back of the room resonating a solid 'Here, here!'"
And the guest of honor stands for the final word:
"It doesn't seem like 36 years have past," O'Rourke says, fighting back emotion. "I'd do almost anything to take another ride across Indiana with people like Len Clark and David Arnett, listening to them come up with a dialogue. That's the part of this College I will always cherish--to associate with the best and the brightest, and those are the kids who come through speech.
"Thank you all for this evening--it was wonderful."