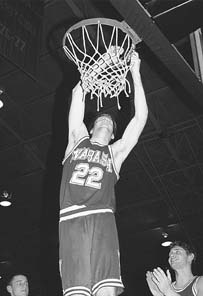 Josh Kendrick '97 cuts down the nets
after the Little Giants' ICAC
Championship game victory.

remember sitting in Dick Ristine's office in Kane House a couple of days before my graduation from Wabash in May of 1987. Dick was the Director of Development and was suddenly looking for a sports information director to replace Brian O'Keefe '86, who had taken a promising position with Phillips Petroleum. To Dick, I was a perfect fit--a Wabash man who had spent three years of college working in the sports department of the Crawfordsville radio stations, WCVL and WLFQ. For me, however, the fit wasn't so perfect. But given the certainty of my pending wedding date, I thought I'd take the job to polish my writing skills for a year or so, then run off to anchor the evening news at ABC.

This spring, I celebrated my tenth year working for Wabash as its sports information director; it was also my last. Beginning this summer, I will leave the sidelines and press boxes to head up Wabash's public affairs staff. While I'm excited about the possibilities of my new position, I will long remember with great pride and passion the ten years I spent chasing Wabash athletic teams around the midwest, pen in pocket and camera dangling from my shoulder; qualities that earned me the nickname "Scoop" from Rich Calacci '91 and Mike Crnkovich '93 during a basketball trip to the Bahamas.

The 1996-97 school year was a great one to end on, and was filled with athletic achievements that far surpassed my expectations. Wabash finished first or second in the Indiana Collegiate Athletic Conference in eight of ten sports, and finished one-half point behind DePauw in the closest all-sports race in conference history. We captured conference titles in cross country, basketball, and swimming, and finished second in football, soccer, wrestling, track, and baseball. In particular, I'll remember the basketball and baseball seasons most fondly. With due respect to the talented student-athletes in our other eight varsity sports, the efforts of the basketball and baseball teams surprised the conference coaches, as well as those of us close to the programs.

In basketball, Wabash was picked to finish sixth in the seven-team ICAC. Coach Mac Petty's team tied for the regular season title, won the conference tournament championship, posted a 24-5 record, and advanced to the second round of the NCAA playoffs. In baseball, Scott Boone's Little Giants, picked fifth in the pre-season, finished second in the ICAC and set an all-time Wabash record with 25 wins--the most in any sport in the College's history. Both teams not only battered the record books, but also gave me plenty to write about.

Writing about Wabash student-athletes has provided me with more opportunities than I ever could have imagined ten years ago on that warm afternoon in Dick Ristine's office. The years have flown by as quickly as the athletic seasons themselves, and while so many of the seasons have become unclear blurs in my memory, the people--Wabash athletes and coaches--stand out distinctly. So in what might just be my last "Speaking of Sports" column, I thought I'd share a few of my own personal highlights from the last decade I've spent as Wabash's number one sports fan.
John Panozzo '89 set a Wabash College record by hitting .471 as Wabash's starting shortstop my first year on the job, 1988, the same year Wabash went 21-13 and played the first college game at the Kansas City Royals' spring training facility, Boardwalk and Baseball.

In the winter of 1988, I got to see not one, but two Little Giant basketball players go over 1,000 career points. Chris Whitfield '88 (1,473 points) and Steve Cox '88 (1,114 points) scored profusely for a team that hammered a heavily favored DePauw team by 19 points in the season finale.

I was also privileged to cheer on two of the finest players ever to score goals for Wabash's soccer team, James Freeman '89 and Michael Clump '97. Not only do they rank first and third respectively on Wabash's all-time scoring charts, both were brilliant students and league most valuable players.

Tom Puschak '89 was also an excellent science student at Wabash, and he's the only individual national champion I've ever seen compete. He set Wabash and ICAC track and field records in the hammer throw, and was the 1989 national champion in that event.

Wabash's top two all-time winningest wrestlers competed during my run as SID. Heavyweight Chris Ervin '91 posted a career record of 119-33-2, while during the same four-year period, middleweight Jason Albaugh '91 posted a 104-15-4 mark.

In my first four Monon Bell football games, Wabash produced an 0-4 record. At first I thought it was me; that is until rookie tailback David Kogan '95 rushed for 136 yards and the game-winning touchdown in a 23-18 Wabash victory in 1991, a win that brought Wabash its first of three ICAC football crowns in the last decade.

I thought I had written a pretty good citation for the Athletic Hall of Fame induction of Chris Passodelis '55 back in 1993. I only wish the entire Wabash family could have heard his acceptance speech. His moving account of his arrival at Wabash on a train from Western Pennsylvania made every person in the room weep with pride and admiration.

In 1993, Sports Illustrated paid Wabash a couple of visits and ran a seven-page story on the Monon Bell rivalry. As sports information director, I thought I had reached my peak when I opened my issue and saw Sean Lyons '95 and Andy Dorrel '94 hoisting the Monon Bell away from Blackstock Stadium. I changed my mind a year later, and surpassed my 1993 feelings when ESPN2 televised the Bell game live from Little Giant Stadium. George Lino '96 ran all over the Tigers as the biggest "Little" Giant ever. My long-time broadcasting hero, Tom Mees, called the game for ESPN2, but died tragically when rescuing his daughter from drowning in the family's swimming pool a little over a year later.

The 1995 Wabash cross country team featured the "Three Amigos" in Roger Busch '96, Scott Gall '96, and Jeremy Wright '96, all of whom were two-time All-Americans. Together they won four straight ICAC cross country championships and placed among the top 11 teams in Division III all four years. In 1995, I trekked to LaCrosse, Wisconsin to witness Wabash's third place national finish, a mark that would land Coach Rob Johnson National Coach of the Year honors.

And the swimmers. I'd be remiss if I didn't salute Coach Gail Pebworth's 1991 and 1993 swimming teams that placed eighth at the National Championships behind multiple All-American performances. Twenty school records have been set during the last decade alone as Wabash swimmers and divers continue to redefine excellence.
I've left off this list hundreds of Wabash men who have competed for the love of sport and for the gratification of competition. Some have become All-Americans and others simply strived to achieve a lifetime best performance. All contributed to the success of Wabash College, and in turn motivated me to reach deeper than I thought I could to produce my very best each time out. Thanks, gentlemen, for allowing me to walk your sidelines, sit your benches, and be a part of your athletic accomplishments.