A year has come and gone since the summer I went to play chess with Bosnian young people. Images from those two intense weeks continue to wedge themselves into my daily thoughts and nightly dreams.
I had come with a volunteer team of university students and chaplains deployed by my church denomination's overseas relief agency to Travnik, a small but renowned city in the center of the war-riven Republic of Bosnia and Herzogovina. Our group's assignment was to join with a staff of a youth center set up to serve resident and refugee families living in Trvnik. Instead of hammers and concrete sacks, our UNHCR Land Rovers were loaded with soccer balls, tennis racquets, sidewalk-chalk, and my contribution, chess sets! My particular role, in addition to covering the project for our denominational newspaper, was to teach chess classes. From the journal I kept during the trip, I offer these entries:
Travnik, Bosnia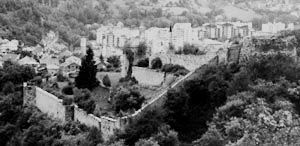 August 10-Travnik
From the jagged limestone topography of coastal Croatia we've crossed into the alpine landscape of Bosnia. When our vans roll onto the property of Dom Mladih (Bosnian for "Youth House") we are instantly surrounded by children. Most of the kids come from Muslim families, though there are also Serb and Croat children. The staff of Youth House is deliberately staffed with all three nationalities. A typical example is Luba, a young Serb nurse who teaches dance and has been shunned by her family for associating with Muslims. When the last of our supplies are unloaded we are escorted to tables and formally welcomed; each of us is poured a demitasse of strong, sweet Bosnian (Turkish) coffee. My chess sets are a big hit; as are the soccer balls and sidewalk chalk. The children here are pawns left over from one of the most devastating games of human chess in history, moved about and sacrificed for the glory of distant "kings" in Belgrade, Zagreb, Sarajevo. Hopeful and radiant with signs of healing, the kids take us on the first of many walkabouts through Travnik. Having been holed up in cellars for three years, there is no such thing as a short stroll for them.
August 11-Travnik.
Visually, Travnik gives the impression of a Swiss villagewith mosques. Having sustained very little damage from the war, it was assailed by a tide of refugees from surrounding areas that nearly tripled its normal population of 70,000. As the kids take us through the town, I pause, bemused, at one of the storefronts. Among the dozens of coffee-houses and shops dotting the business district, I've stumbled upon the Café Bobby Fischer! The proprietor confirms that, yes, the American chess superstar had given an exhibition here between major tournaments in Zagreb and Belgrade in the spring of 1970.
August 15-Sarajevo.

Do murdered books leave ghosts? Today we climbed around inside the shell of Sarajevo's Central Library as though we were exploring a cave. Most of the artillery lobbed through the roof of this building carried phosphorus payloads, which left the walls intact but incinerated centuries of cultural and literary records. If, by disemboweling this cultural treasure trove, the Serb nationalist gunners intended to demoralize the Sarajevans, something quite the opposite of despair is taking root here. On the broken pillars and slabs of plaster wall we find graffiti; not obscene scrawlings of vandals, but messages of encouragement and lovers' markings-hearts and names, no translations needed.

Steve Laue plays chess with his host family
August 17-Travnik.
Each evening, after a full day's engagement at Youth House, our team disbands and we retire in pairs to the homes of our host families. I feel particularly fortunate to have been assigned to the Durics, whose warm hospitality and poignant sharings have deeply touched me. Enisa Duric has cleared the table and is now grinding coffee while her 11-year-old son, Igor, sets up the chess pieces for a game with his 13-year-old sister, Maja. Their father, Boban, is a police detective whose work keeps him away from the family in week-long stretches. Before the war, the Durics lived in Jajce, a beautiful town at the confluence of the Vrbas and Pliva Rivers. With the onset of hostilities, Jajce became a target, not just for shells but for the reprehensible practice of "ethnic cleansing." Himself a Serb (Enisa comes from a Muslim family with roots in Montenegro), Boban Duric detested the nationalism embraced by those whose political and military power carried the day, and felt that staying put in Jajce would amount to condoning the Milosevic/Karadzic agenda. So, carrying all of the clothes and supplies their arms could manage, Boban, Enisa, and the kids joined the river of refugees bound on foot for Travnik, 35 km away. As I suggest to Maja a move that will checkmate her brother, Enisa brings to the sofa a tray of coffee and ripe pears. With Igor's help, Enisa tells me about the life they left in Jajce; fishing and kayaking on the Vrbas, a new house they'd just finished building, shelves and shelves of beloved books, especially Dostoevsky. To me, a sacrifice is just a move on a chessboard. To the Durics, sacrifice is how you live.
Steve Laue '79, is an ordained minister in The United Methodist Church. He lives with his wife, Pam, and his sons, Ian and Sean, in Anderson, Ind. He is currently coordinating a mentoring program for young fathers through Planned Parenthood in Muncie, Ind., and serves as a chaplain at St. John's Hospital in Anderson.