International Center
For Students
Students of languages other than English should consider the advantages of the
International Studies Area of Concentration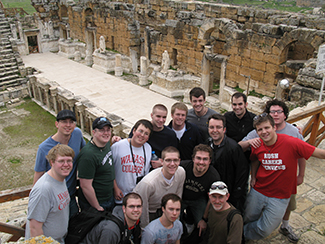 Although the IS Area of Concentration is not a minor, it does fulfill the requirement for a minor. It is an excellent option for students with good language skills who are seeking solid preparation for a career in international affairs. Students majoring in languages, history, political science, and economics can construct their own strong "area studies" programs. Those majoring in other fields including the sciences may create an innovative undergraduate program leading to a highly practical graduate degree. For example, in our increasingly diverse society, one might prepare for a bilingual medical career through an IS area coupling a study of Biology with Spanish along with a period of study in Latin America or Spain. International studies alumni have gone on to work in law, diplomacy, international affairs, and international business. They have competed successfully for Fulbright Fellowships.
While International Studies students must take four additional courses related to their area of study. In general, students may not "double-count" their courses toward a major or minor and the area of concentration. Nor may they take more than eleven courses in their major field (of the 34 needed for graduation) by counting some of these toward completion of the program in International Studies.
Further information about Wabash College graduation requirements, off-campus study, travel, passports, visas, internships, and the entire on-line application may be found at www.wabash.edu/international
For more information about the International Studies Area of Concentration, please contact any of the following:
Amy Weir
Director of International Students and Off-Campus Studies
weira@wabash.edu
International Center
(Located at 512 W. Wabash Ave.)
---------------------
Dr. Rick Warner
Professor of History
warnerri@wabash.edu
---------------------
Wabash College is committed to preparing its students for leadership and service in a changing global society. As part of that commitment, the International Studies Program affords students the opportunity to improve their language proficiency and learn about Asian, Latin American or European nations in depth. Through coursework, off-campus study, and participation in an internship students in the Program may gain a coherent, well-rounded understanding of another culture. Successful completion of the Program satisfies the College requirement for an area of concentration, and it fulfills the rquirement for a minor. The Program is administered by the International Studies Committee.
COMPLETING AN "IS" Area of Concentration
The International Studies Area of Concentration requires the following:
Proficiency equal to the equivalent of 4 semesters of college-level study of Spanish, French, German, or Portuguese by the end of the sophomore year.
Four (4) courses outside the major and minor designated as international studies courses. The Committee will consider approval of this set of courses as part of the application process. At least two of these courses must be taken at Wabash prior to the off-campus experience. We encourage students to fulfill the remainder of the coursework abroad.
Two half-credit seminars on international studies. Students will take the first seminar in the fall semester of the junior year and the second in the fall of the senior year.
A semester of study abroad in a China, a Latin American or European country during the spring of the junior year to perfect language skills and earn a semester's worth of academic credit. Please ask for clarification.
An internship experience is urged, preferably in the summer following the study abroad semester, where possible, related to the student's major field of study, through which he may practice language skills in a practical manner after the off-campus study period, in the country where he studied. Students are encouraged to work with Career Services to identify and seek support for internships through various campus sources including the Coons and Cassell grants in the Political Science Department and the college-wide program of Dill grants.
International Studies Courses
The following list of courses is not intended to be exhaustive, rather illustrative of the types of courses they may be used to satisfy this requirement. One may use other courses to satisfy this requirement including freshman tutorials, special topics, or other courses of particular relevance to the planned program of study abroad. A student wishing to use a course not listed below should explain his reasons for doing so to the International Studies Committee and obtain the Committee's approval.
General Courses:
ECO 224/ PSC 324–Econ & Polit. Development
ECO 222– Comparative Econ. Systems
ECO 321—International Trade
ECO 322– International Finance
ENG 109– World Lit. in Translation
HIS 102– World History Since 1500
HIS 201– World History 1945 to present
MUS 102– World Music
PSC 122– Introduction to Comparative Politics
PSC 242– Introduction to International Politics
PSC 327– Nationalism and Ethnic Conflict
PSC 348—International Organizations
PSY 211– Cross-Cultural Psychology
Courses with a European Focus:
ART 207– Renaissance and Baroque
ART 208– 19th Century Art
ART 209– 20th Century Art
ECO 214– Econ History Topics: Europe
ECO 278– European Union Economics•
HIS 222– Early Modern Europe
HIS 131– 19th Century Europe
HIS 132–20th Century Europe
HIS 233–Europe, 1918-1945
MUS 211– Music in Middle Ages, Renaissance & Baroque Eras
MUS 212– Classical & Romantic Music
MUS 213– Music Since 1900
PHI 142–Modern Philosophy
PHI 142–Existentialism
PHI 345– 20th C. Continental Philosophy
PSC 322–Politics of the European Union
REL 172–Christianity in the Modern Era
THE 214–Modern European Theater & Drama
Courses with a Latin American Focus:
ECO 277 – Latin American Economics
HIS 250/252 – Latin American History
HIS 350 – Adv. Top. in Lat. Am. History
PSC 325 – Politics of Latin American & the Caribbean Basin
PSC 278 – Ethnicity, Race, & Politics
Plus intermediate or advanced courses in the Modern Language Department emphasizing Latin American languages and literatures. These courses must be in addition to those needed to meet program proficiency requirement
INTERNSHIPS
Students participating in the IS program are strongly encouraged to do an overseas internship as part of their off-campus experience. Past IS student interns have worked for NGOs, international organizations as well as political parties, and for private companies. Examples of placements included Amnesty International in Spain, the United Nations in Vienna, the Social Democratic Party, Siemens, and the International Herald Tribune in Germany.
Further information about Wabash College graduation requirements, off-campus study, travel, passports, visas, internships, and the entire on-line application may be found at
Here is an Overview of what you must do to study off-campus.
PRIMARY Deadline: November 18th, Friday:
Online application created.

S

elect program.

Select two faculty recommenders.

C

omplete course approvals.

Complete Graduation Plan with

Advisor/Chair Approval Form.
December 2nd, Friday 4:00 PM:
Complete essay.

Submit entire application.
SPECIAL OCS FINANCIAL OPPORTUNITIES:
Kenneth Rudolph Award for summer study in Europe
Givens Award for the study of Western Art in Europe
Both of the above awards are competitive, and require prior approval of the student's application to study off-campus. Please contact Amy Weir in the International Studies Office for details regarding both awards and the application procedures.
STUDENTS WITH SPECIAL NEEDS
Please discuss with Amy Weir and contact Mobility International.