For Internationals Enrolled at Wabash College
International Center
For Internationals Enrolled at Wabash College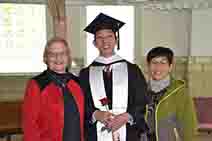 THE INTERNATIONAL STUDENT OFFICE
The Office of International Students is an important source of information and assistance for International Students. The purpose of the International Student Office is to assist you while you are in the United States. You should visit our office or website whenever you have questions or concerns.
This link will help you to become familiar with the role of the Office and its service to International Students. You can also obtain valuable information by reading the school newspaper; looking at announcements on bulletin boards around campus; talking to classmates, professors, local residents, and reading helpful publications. But, when it comes to immigration matters, please come to the office and speak with the Director. The Director of the Office, Amy Weir is responsible for providing assistance on immigration matters, coordinating campus and community services available to international students, providing liaison with sponsoring agencies and foreign governments, and promoting interaction between students and the college and local community. The Director is willing to discuss matters with the students who come to see him, including personal concerns or problems. All discussions remain strictly confidential. If the director cannot provide the help you need, you will be referred to an appropriate source of assistance. In order to help you most effectively, it is important that you contact him when you first become aware that a problem might be developing rather than when it has become extremely serious.
In addition to the services listed below, the following quick links will help you with certain important matters:
Immigration Status & Regulations
The International Office will help you in a variety of ways. Questions you have about academic procedures, expectations, and requirements can be discussed in order to help you understand the differences between the U.S. educational system and that of your home country. They can tell you about community activities that will orient you to U.S. lifestyle and customs and introduce you to community residents. For all of these reasons and more, the International students Office will be an important place to you during your stay in the United States. You will find valuable assistance upon arriving on campus, while pursuing your studies, and preparing for your return home. The following are some of the services offered at the International Student Office.
Assistance with registration.
Guidance on how to receive medical attention, buy health insurance.
Advise on immigration problems or regulations such as visa requirements and regulations, school transfers, extensions of stay, travel outside the United States, work permission, and practical training.
Personal assistance with admission process.
Introduction to your academic advisor.
Orientation sessions on such topics as the role of the International Student Office, the role of community organizations, the role of academic advisor, features of U.S. higher education system such as credits and hours, and issues of a cross-cultural nature.
Orientation to campus events and organizations.
Activities fair
Tours of college facilities and offices.
Advice regarding contacting the Internal Revenue Service (IRS) concerning the taxes you may owe.
Participation in activities orienting you to the U.S. community.
Welcoming events.
Counseling regarding such matters as:
Culture shock and homesickness.
Health services available to you on and off campus.
Meeting other people from your home country.
Liaison with your sponsor about immediate concerns and needs.
Orientation to various community services, such as library, stores, banks, and transportation, and to automobile requirements (licensing, insurance, etc.).
Legal matters, such as signing a contract and what to do when things go wrong.
Obtaining a Social Security Card.
Your academic progress, satisfactory or not.
Advising. If your grades are low or if you are considering a reduced course load, consult the International Office.
Your relationship with your sponsor, if appropriate. The International Office Director serves as a liaison between your academic advisor, your sponsor, and you on progress toward your educational goals.
Special needs for remedial services, such as communication skills, tutoring, and note-taking skills.
Participation in nationality organizations, international clubs, and campus and departmental activities.
Opportunities in the community for you to share your knowledge of your home country and culture. The Office often knows of schools, churches, and civic groups interested in having an international student speak or perform at a meeting.
Opportunities to meet American families (host families, friendship families) and to learn more about U.S. culture.
Opportunities to visit industrial plants, museums, historical sites, and farms, and to attend cultural and recreational events.
Opportunities to increase English language proficiency through a conversation program.
Vacation travel, particularly at Christmas and during spring break.
Personal Concerns:
Adjustment to U.S. society and education.
Use of Campus counseling center, if appropriate.
Special assistance, as in the case of medical or other emergencies.
Changes in your tuition or living expenses as well as financial problems. The Director can assist you in planning your budget and making financial decisions.
Source of financial assistance, such as scholarships, assistantships, grants, and employment.
Family problems.
Your legal rights and responsibilities, as well as legal matters that concern you. The Director can refer you to a legal counsel.
Certifications of enrollment for matters such as the transfer of funds and the deferral of military requirements.
Problems related to the transfer of money for your educational expenses.
Verification of the accuracy of college records, such as your home address. This information will help the International Students Office maintain contact with you after you leave.
Information on college alumni in your home country or region. Obtaining these names and addresses may be valuable to you upon your return home.
Registration with the alumni office before your departure.
Financial difficulties affecting your departure.
Travel and shipping of household goods and belongings.
Discussion of your U.S. educational experience. This should help the Office and you evaluate your academic and personal progress and satisfaction.
Your professional plans and personal expectations for the future.
Preparing for the readjustment you will face as you return to your country and family.