So Will the Liberal Arts Help Me Get a Job?
So Will the Liberal Arts Help Me Get a Job?
It takes guts to come to Wabash. The work is hard, the demands are high, and yes, the students are all men. But the rewards are plentiful. Wabash men leave the College prepared for the rigors of graduate and professional schools, careers in business, and in vocations from ministry to teaching.
Just ask any of our graduates, who include MetLIfe Americas President Bill Wheeler '83; General Motors Treasurer Jim Davlin '85; President Bill Clinton's attorney, David Kendall '66; the Chairman and CEO of American Funds, Kevin Clifford '77; Mayo Clinic Oncologist Gary Croghan '77; award-winning fiction writer Dan Simmons '70; Saturday Night Live and 30-Rock Designer Tom Broecker '85; and Pete Metzelaars '82, who played in four Super Bowls and helped coach the Indianapolis Colts to a Super Bowl Championship.
Wabash men dare to succeed in any field they choose to pursue. Many students enter the job market immediately upon graduation; others head straight into graduate and professional schools. In 2011, Wabash grads took positions with Teach for America, Peerless Industries, Eli Lilly & Company, Apparatus, the U.S. Forest Service, Louis Vuitton, Merrill Lynch, and Valspar, among many others.
In most years, about 25-30 percent of the graduating class went directly into graduate, medical, or law school, with many of them pursuing Ph.D. studies. Wabash men of the Class of 2011 are studying at graduate schools like Indiana University Medical School, Baylor School of Medicine, Notre Dame, Marquette, Ohio State, Columbia, and Florida State.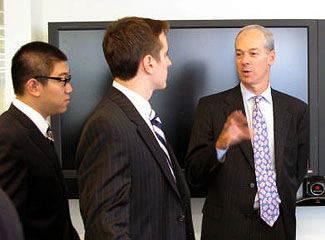 Read more about our nationally ranked Schroeder Center for Career Development.
Got Internships?
Whatever your interests, our options for internships are nearly limitless. And many of our internships are paid!
Every year about 100 students spend the summer working side-by-side with faculty and staff on research and creative projects — and many co-publish or co-present the work at national conferences. Fully 70 percent of Wabash graduates complete one or more internships during their time on campus at places like National Public Radio, DDB Worldwide, Cancer Treatment Centers of America, Global Works, IU Heath, Indiana Repertory Theater, L-3 Stratis, Legal Aid Society, Senator Richard Lugar, Hotspot Microvascular Imaging, Indianapolis Children's Museum, NCAA, Eli Lilly, and IBM, just to name a few.