Class Of 2021
Academic Info

This page contains information about our academic program.
Academic Bulletin (Course Catalog)
The Academic Bulletin contains important information for all students which includes requirements for Majors, Minors, Area of Concentrations, and course descriptions. Students will also find Academic Policy information such as Grades, Honors, Dean's List, and how to make changes to your schedule, just to name a few.
Your Academic Bulletin will be the 2017-2018 Edition. It will be available to view online around the middle of July. Please check back for the link. Until then, you may view the 2016-2017 Bulletin.
Click to view the four-year Academic Calendar.
Registration for Classes
Freshmen register for their Freshman Tutorial using the Summer Checklist. You must make your selection between May 24 and June 8. Some tutorial sections may fill up quickly, so you should review the course descriptions and make your selection as soon as possible.
During Orientation, which begins on August 19, freshmen will consult with their academic advisor and select the rest of their courses. Students should make sure they have alternate selections in case a class is closed.
Freshman who attend the summer Wabash 101 program will about academic planning and meet with a faculty advisor about fall classes.
The Mathematics Placement Exam
Before you come to Wabash, you will take a mathematics placement exam. The purpose of the exam is to determine your starting point in the calculus sequence, should you choose to take calculus. The basic exam consists of problems in high school algebra and geometry. The exam will be available through the Summer Checklist on May 22, 2017, and must be completed by August 1, 2017.

English Proficiency Requirements
Proficiency in English means the habitual use of clear and appropriate English prose in course papers and on examinations. Certification of proficiency in composition and writing is of utmost importance to the entering freshman. On the basis of the SAT Writing Test, SAT composite score, and other data, many freshmen are required by the English Department to take a full course in English Composition (English 101). Students taking this course are often weak in organizational and syntactic skills; on the other hand, students who pass this course are stronger and more confident writers because they have the advantage of close attention to their organization and editing.

Foreign Language Requirement
All students at Wabash are required to demonstrate proficiency in a second language. This may be done in one of three ways: by completing two semesters, or the equivalent, of a language at the introductory level; by completing one semester, or the equivalent, of a language at the intermediate level; or by passing a proficiency examination at the appropriate level. In the case of Modern Languages, the proficiency examination has an oral component.
Placement: A student who wishes to continue with the language he began in high school will be placed by the faculty of that language on the basis of their evaluation of his high school preparation. While our placement will take into account both the quantity and quality (grades) in previous language study, students who have had at least two years of high school language will normally be placed into our third semester course or higher. Students who start in the third semester course or higher (201 or 301) and completes that course with a B- or better also receives one elective credit for the course immediately preceding the one he has taken.
A student may, of course, begin a new language at Wabash. Our beginning courses assume no background in the language.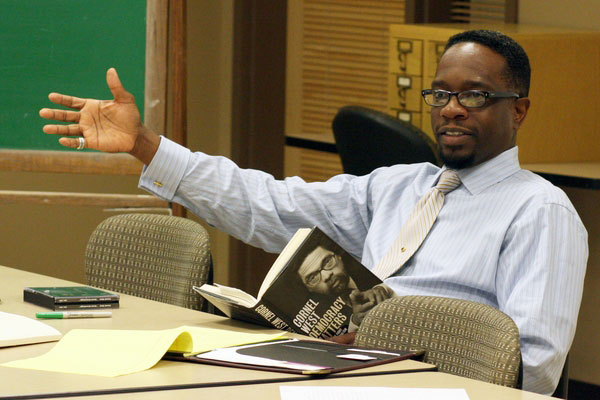 Professor Lake discussing coursework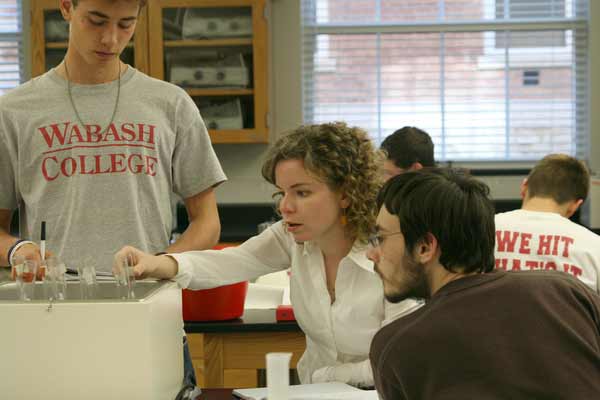 Professor Ingram assisting students with labwork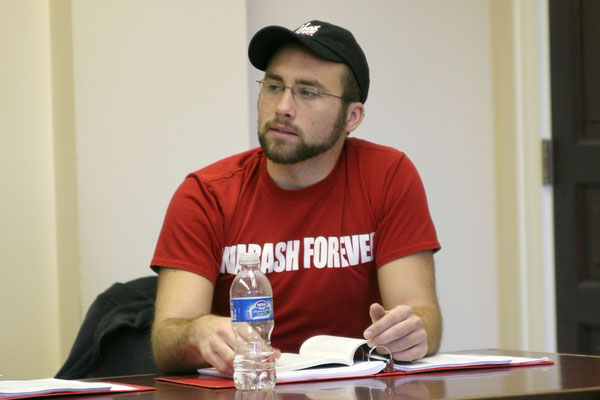 Student contemplating discussion topics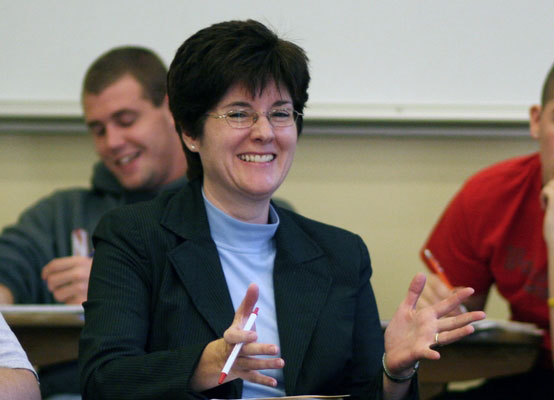 Professor Hardy smiling in class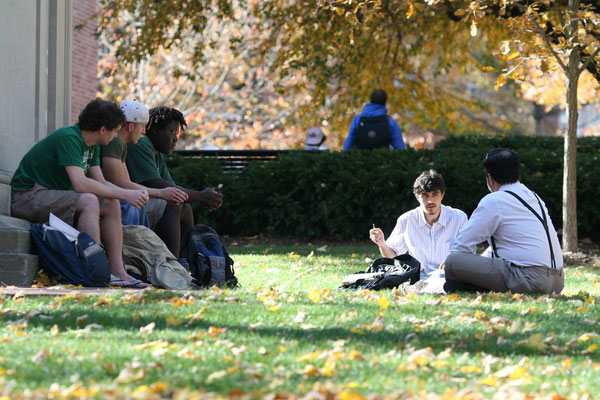 Students relaxing in the grass