Career Services
Resource Toolbox
The Schroeder Center supports student career development in every way. Need the best links on the web? Need a short-term place to stay for a graduate school visit? Need a suit for your big interview? We have you covered.
---
Career Guides
We wrote the book on Wabash career services for you. Find it all here.
Career Links
There are a lot of bad sites and misinformation on the web. We've separated the wheat from the chaff for you.
Suit Yourself
You need to look good for your formal occasions. Borrow everything you need here.
Bash Bunks
Find a place to stay across the country and around the world with alumni and friends of Wabash.
Plastics Blog
Learn from your peers, alumni, employers about career development.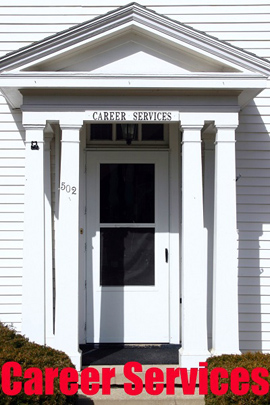 Schroeder Center for Career Development
---
Personal, walk-in service anytime.
Arnold House, 502 W Wabash Ave.
Hours: M-F, 8a - 4:30p; Su-Th 7p - 10p
Phone: 765-361-6414
Email: career@wabash.edu
Scott Crawford, Director
Cassie Hagan, Assistant Director of Experiential Programs and Alliances
Casey Hockersmith, Administrative & Recruiting Assistant