Career Services
Professional Development
Professional development is the Wabash man's secret weapon. The Wabash man is Rennaissance Gentleman who can deliver an inspiring toast, draft a persuasive memo, analyze some complex data, improvise on a guitar, and slam a basketball. Professional development--from sports, clubs, volunteering, and taking advantage of programs--provides his poise in a roomful of new people, his dedication to making a team succeed, his commitment to his community, and his confidence to lead. Wabash educates the whole person, and the whole person is the whole professional.
---
The Gentleman's Curriculum
Like the Rule says, "on and off campus." Wabash men need to be gentlemen in every way, from taking the lead on a team to tying a double-Windsor.
Networking
Networking is building relationships based on mutual interest, effort, and benefit. By making connections, sharing experiences, and giving as much as you receive, you can go places you never thought possible. Get started here.
Involvement Matters
Getting out there and joining clubs and organizations only goes so far. Walking away with the right connections, skills, and professional experiences matter in every professional situation, from interviews to running a company. Learn how to make the most of your involvement.
Building Skills
Today's workplace demands men of versatility and skill. Speaking different languages, knowing how to program, or being an expert in event planning can only help you earn and keep a job.
Professional Immersion Experiences (PIE)
Put your skills to work and extend your reach with PIE. Take a test drive in a multitude of careers in these week-long professional immersion experiences including organizational site visits, networking opportunties, and on-the-ground experience in a new place. Current offerings include New York, San Francisco, Chicago, Denver and Indianapolis.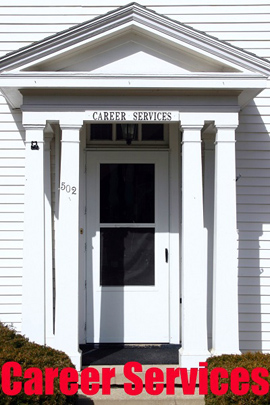 Schroeder Center for Career Development
---
Personal, walk-in service anytime.
Arnold House, 502 W Wabash Ave.
Hours: M-F, 8a - 4:30p; Su-Th 7p - 10p
Phone: 765-361-6414
Email: career@wabash.edu
Scott Crawford, Director
Cassie Hagan, Assistant Director of Experiential Programs and Alliances
Casey Hockersmith, Administrative & Recruiting Assistant