October 03, 2019
All event times are Eastern Time Zone unless otherwise specified.
Wabash College's highest priority is the well-being of its students, faculty, and staff. Consistent with the
Centers for Disease Control and Prevention guidance
for institutions of higher education, the College is closed to visitors except upon invitation from the College. Guidelines regarding return to campus have already been provided to faculty and staff. Students wishing to return to campus must contact the Dean of Students' Office to make arrangements to visit.
Board of Trustees Meeting
Chapel Talk: Chapel Chapel, 11:00AM - 11:50AM
Come out to Pioneer Chapel this THURSDAY at 11:15 A.M. to take part in this Wabash tradition! Wabash Always Fights, The Sphinx Club
Radio Station call out: Baxter Hall 101 Lovell Lecture Room, 12:00PM - 1:00PM
Improv for Lunch: Fine Arts Center B002 Experimental Theater, 12:00PM - 1:00PM
The Improv Class Public Performance
'shOUT Meeting: Center Hall 216 Classroom, 12:00PM - 1:00PM
Regular 'shOUT meeting; lunch will be provided.
Wabash After-Work Social: 5:00PM - 7:00PM
Wabash After-Work Social
Thursday, October 3, 2019
5:00 p.m. - 7:00 p.m.
Backstep Brewing Company
125 N. Green Street
Crawfordsville IN 47933
Join us after work for fellowship and TWR. Stick around for a Bingo fundraiser beginning at 7:00 p.m. featuring Friends of Sugar Creek.
All alumni, parents, and friends welcome.
President's Distinguished Speaker: Nicole Ver Kuilen: Fine Arts Center M114 Salter Hall, 8:00PM - 9:30PM
The President's Distinguished Speakers' Series presents Nicole Ver Kuilen.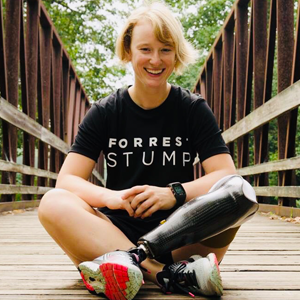 Nicole Ver Kuilen is an amputee triathlete and subject of the documentary 1500 Miles. Nicole lost her left leg below the knee to bone cancer at age 10 and has made it her life's goal to expand access to prosthetic technology for all amputees. The founder of Forrest Stump, a nonprofit advocacy organization raising the standard of care for amputees, Nicole will talk about her journey as an amputee, the 1,500-mile journey down the west coast, and her successful summit of Cotopaxi, a 19,347-foot volcano.
Theater Production: Biloxi Blues: Fine Arts Center T110 Ball Theater, 8:00PM - 10:30PM
October 2-5, 2019
Biloxi Blues
by Neil Simon
Directed by Michael Abbott
Eugene Jerome is a young army recruit during WWII, going through basic training and learning about Life and Love with a capital 'L' along with some harsher lessons, while stationed at boot camp in Biloxi, Mississippi in 1943.
Biloxi Blues opened on Broadway in the Neil Simon Theater on March 28, 1985, and won the Tony Award for Best Play that same year.
Guidance Suggested: May involve material parents might not approve for young children.
Wing Night: Detchon Center 100 International Hall, 9:30PM - 10:30PM
Wing Night - Destress before midterms with some free wings from Buffalo Wild Wings! Free and open to all current students!