Fine Arts Center Box Office
Events
VAS PRESENTS: TAIKO DRUMS
Saturday, April 7, 8:00 PM

Wabash College Fine Arts Center
Salter Hall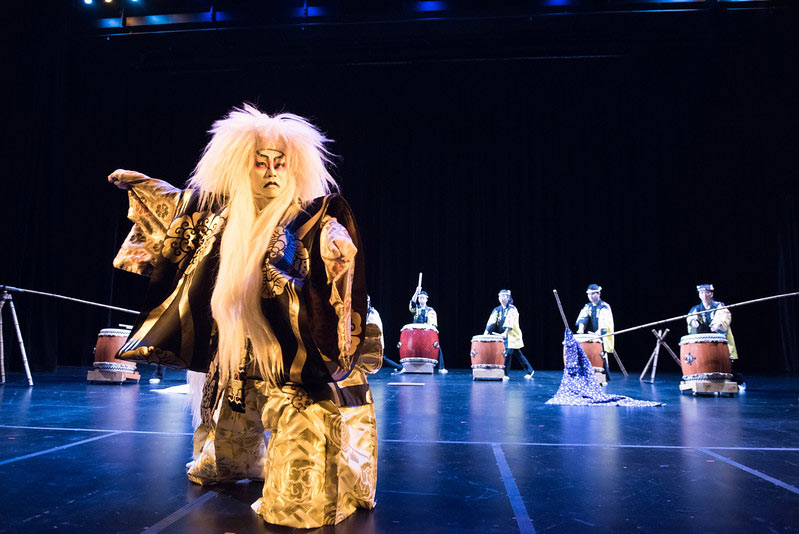 Tsukasa Taiko, a program of Asian Improv aRts Midwest, offers taiko drum instruction, education, and performances. Its mission is to preserve, develop, and pass on the traditional concepts of Japanese art as a cultural legacy, and to utilize these concepts in expanding and evolving the taiko art form.
As an active performing group, Tsukasa presents over fifty shows a year, both locally and internationally. Tsukasa Taiko offers classes, workshops, lectures, and demonstrations designed to teach how to play taiko, as well as to advance the understanding of how the cultural arts are a reflection of a community's heritage and legacy. It works closely with schools, companies, and corporations, to provide special performances and presentations on the history of taiko and Japanese music. Tsukasa Taiko's popular performing ensemble maintains an active local, national, and international performance schedule, including such prestigious venues as the Contemporary Museum of Art, the Steppenwolf Theater, the Chicago Cultural Center, Millennium Park, the Chicago Jazz Festival, Chicago Symphony Center, the Smithsonian, and the Malta International Theater Festival (Poland).

Tsukasa Taiko's director, teachers, and staff are dedicated professionals, all recognized as world class, working artists. Tatsu Aoki, the director, is a world renowned, highly respected, performing musician, composer, and recording artist, working in traditionally based Japanese music as well as experimental and jazz idioms. Noriko Sugiyama has returned to Chicago from Japan, having been granted a performing visa to be a guest artist with Tsukasa Taiko. With its strong leadership and aesthetic vision, Tsukasa Taiko is positioned to further the advancement of Japanese art in Chicago, and to expand and develop as a cultural beacon for the future.
Tickets are available beginning Monday, January 15 12:00 AM.
FINE ARTS BOX OFFICE
Fine Arts Center
Wabash College
765.361.6411
finearts@wabash.edu
Twitter
Box Office Hours
Monday – Friday, 8:30am-noon and 1:30-4pm, and 90 minutes before curtain time for ticketed events.
Ticket Information
Admission is FREE to all events. Free tickets are only required for Theater Productions and Visiting Artist Series events. All events are subject to change.
Visit www.wabash.edu/calendar for the latest calendar information.
Sponsors
The Visiting Artist Series is funded in part by the Tippecanoe Arts Federation, the Indiana Arts Commission, and the National Endowment for the Arts.
If you have any technical difficulties when reserving tickets, please contact the Fine Arts Center Box Office at 765-361-6411 or finearts@wabash.edu.