Alumni
Virtual Tour

Campus Tour Home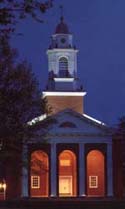 Welcome to the tour!
The Wabash College Virtual Campus Tour is self-guided. You decide what you want to see. Wherever you stop, you will gain a sense of the historic architecture and natural beauty of Wabash. Plus, be sure to look for links to panoramic images of tour stops (PC compatible), giving you an even better perspective of the campus, inside and out.
Taking the tour: Use the "Go to the..." pull-down menu at the bottom of each page to visit a specific building. of the "Where is the..." menu to search for the location of a department or program.