Alumni
News
Celebration of Student Research Deadline Extended
by Howard W. Hewitt
11/28/06
The 7th Annual Celebration of Student Research, Scholarship, and Creative Work will draw even more attention this year as part of a weekend celebrating the Inauguration of President Patrick White. The deadline for students to apply for inclusion has been extended to Monday, Dec. 18, according to committee chairman Todd McDorman.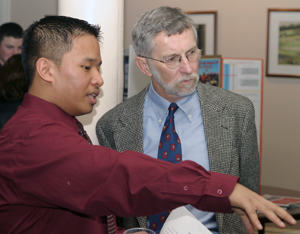 The Wabash community has gathered the last Friday afternoon of January since 2001 to share in the impressive work of Wabash students By vote of the faculty, afternoon classes are canceled on this day so that all members of the community may attend. Last year, 68 oral presentations, performances, poster presentations and exhibits were featured at the Celebration.
The Celebration will be held 1-4 p.m., January 26, 2007, in Detchon Hall. The celebration will kick off a flurry of activities culminating with President White's official inauguration Saturday as Wabash College's 15th president.
Application materials and guidelines are now available according to Celebration Chairman Todd McDorman. Presentations are open to all students and include poster sessions, talks, exhibitions, presentations of musical or theatrical performances, and readings of other work. If a student's idea doesn't fit one of the formats, McDorman will be available to answer questions.
In photo: Philip Ramilo talks with Professor David Hadley about his art work at last year's Celebration.