Alumni
Faculty-Alumni Symposium
"Wally Hoops"
A SLAM DUNK Symposium on BASKETBALL & the Liberal Arts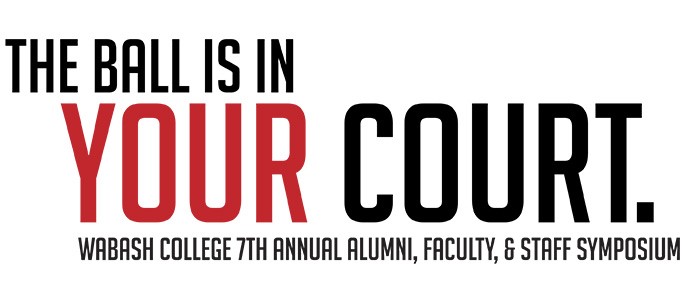 A partnership of Wabash faculty, staff, and alumni of the National Association of Wabash Men and the Indianapolis Association of Wabash Men.

Wabash College Hays Science Hall
Friday, February 19, 2016

* * * * *

Tip-OFF and Welcome
12:50 p.m. - Hays Hall 104

* * * * *
Concurrent Colloquia Sessions
1:00 p.m. to 5:05 p.m.

Hays Hall 104

Hays Hall 319

1:00
PM

Mac Petty H'82:
Basketball From Beginning to Now

Dr. Richard Dallinger:
The Hoops Doctor Holds Court

1:50 PM
Dr. Preston Bost:
Outside the Box(score): Building a Better Basketball Team with Modern Analytics
Mike Ricks '87:
"Hoosiers" and the Cutting Room Floor
2:40 PM
Matt Tanney '05:
Learning to "Dance:" Creating a Championship[ Culture in a Division I Basketball Program

3:30 PM

Joe Haklin '73:
Basketball as a Process: The Score Will Take Care of Itself
Dr. David Phillips H'83
and
Brent Harris H'03:
Wabash Basket Ball: The First 30 Years
4:20 PM
Ray Jovanovich '84:
Asia's Love Affair with the NBA...from the Late 1980's to 2016 and beyond
Annie Strader
and
Matthew Weedman:
Man-Made Hoops: Artistic Responses to a Cultural Phenomenon




"Wally Hoops" Reception in detchon Center
5:30 - 6:30 p.m.

* * * * *

"Wally Hoops" banquet in detchon center
6:30 p.m.
Dr. Chris Carr '82 will deliver the event's keynote, "Mental Toughness: The Role of Sport Psychology in the NBA."
* * * *
The cash-bar reception begins at 5:30 p.m. and an RSVP-only dinner will follow at 6:30 p.m. The afternoon colloquia sessions and reception are free and open to the public. The Wally Hoops dinner is $25 (pre-registration required). You may contact Michele Ward at (765) 361-6369 or wardm@wabash.edu.
Look for the event on Twitter: #WallyHoops