Admissions & Financial Aid
What Others Say
Wabash College ranked 50th nationally among 1,223 schools nationally in Return on Investment by PayScale.com.
— PayScale.com 2015 ROI report
"Part of the Wabash ethos is the education of the model man, a philosophy distilled into a single code: 'The student is expected to conduct himself at all times, both on and off the campus, as a gentleman and responsible citizen.' Nuff said… The code is a very real part of student life, from academics to the athletic fields."
— US News & World Report

"Some of the important lessons Wabash men learn are not from books or classroom discussions, but from being held accountable and taking responsibility for their actions."
— Student Success in College

"This is a clan with elan. Not a single student I talked to would be anywhere else. Wabash was their first choice, and one reason was they'd been told, 'It won't be easy, but it will be worth it.'"
— Colleges That Change Lives by Loren Pope

"Wabash students are probably ten times smarter and better prepared for post-graduate life than students at other schools."
— The Princeton Review

"Unencumbered by the pressures of a research university, the focus is heavy on classroom instruction."
— US News & World Report

"Alumni go on to become high achievers and contributors to society at a rate that puts very selective and famous colleges to shame."
— Colleges That Change Lives by Loren Pope

Wabash got high marks for Easiest Campus to Get Around (1st), Best Career Services (7th), Best Classroom Experience (9th), and Professors Get High Marks (18th) among its six top-20 rankings.
— The Princeton Review's The Best 379 Colleges guide

"People are belatedly realizing that men's colleges can play as positive and distinctive a role as women's. And… at a time when men are lagging behind badly in higher education, they may be more relevant than ever."
— The New York Times

"Do men learn, develop, and behave differently when they go to college in the company of only men?...Wabash College is one of the best places in America to explore it. Wabash doesn't merely happen to be an all-male college; it's a place where nearly every encounter and activity turns into an opportunity for the contemplation of maleness."
— Details Magazine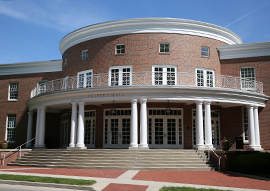 If we're being honest, we don't much care about what others say about Wabash College. We care about what our students say, what our alumni say, and what employers say about our graduates.
In our alumni survey, respondents said they were positive or very positive about their Wabash experiences:
Academic program — 98%
Academic major — 94%
Relationship with professors — 94%
Relationship with fellow students — 94%
The total Wabash experience — 96%
Approximately 85 percent of our students who apply to law schools are accepted
Over 80 percent of our students who apply to medical schools are accepted