Admissions & Financial Aid
Housing & Fraternities
Wabash offers students three housing options: fraternities or residence halls for all students, and off-campus living for juniors and seniors. In all settings, students are responsible for governing their living environment.
All freshmen and sophomore students are required to live in College Housing, unless a student receives permission from the Dean of Students to commute from home. Many of the activities on campus are designed around each living unit, including intramural sports, campus social events, and community service activities.
Fraternities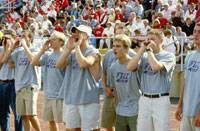 Over half of the students at Wabash live in the nine national fraternities that have chapters at the College. All chapter houses are located close to campus, and all fraternities have their own meal plans. Study rooms and sleeping accommodations vary from house to house, but all of the fraternity houses have general common areas, study rooms, and laundry facilities.

All nine of Wabash's national fraternities host open houses during Orientation Week in the fall. These are designed to allow fraternity men to get to know prospective members and for new students to learn about each fraternity's culture and brotherhood. Most of the fraternities at Wabash also host summer rush events, which provide further opportunities to get to know brothers.

The fraternity chapters at Wabash help to develop good study habits and provide countless opportunities for leadership development and community service. Fraternity members also form relationships that endure long after graduation. Combined, Wabash's fraternities boast grade point averages of 3.0 or higher and contribute hundreds of hours of community service each year.

Please review the various chapter websites, links for which can be found below. We think those sites — and conversations with Wabash fraternity men — will help educate new students about fraternity life and the entire fraternity rush process at Wabash.

Just as fraternities at Wabash are different from those at many colleges and universities, each fraternity chapter at Wabash is distinctive from the others. We hope these web pages help you make an informed decision about whether to pursue Greek life or choose to live in a residence hall during your time at Wabash.

Fraternity Web Sites
These pages are maintained by the individual fraternities and, in some cases, the alumni organizations.
Residence Halls
On average, less than forty percent of the student body lives in the five residence halls:
Martindale, the largest of these, houses more than 100 men. It also has the greatest variety of rooms. College Hall and Cole Hall each have double rooms which house 78 and 63 men respectively. Morris Hall and Wolcott Hall each house 34 upperclassmen in single rooms with every two rooms joined by a bathroom. The college-owned houses near campus are available for eligible upperclassmen.
Each residence hall has common areas for its residents, recreation spaces, and lounges on the individual floors or in the basement, and laundry facilities. All are air-conditioned. Additionally, Resident Assistants (RAs) live on each floor or in each building. They are upperclassmen that have been selected to assist residents in developing community on the floor or in the building.
Men living in the residence halls eat at the Sparks Center and can select either a 15 or 19 meal plan.