Apply
Applying to Wabash is easy - Use the Wabash or the Common Application.
Our Early Action application deadline is December 1.
Apply Now

Find Your Counselor
Joey works with students from Northern Indiana, Michigan, and Missouri.
Find Your Counselor
Affordability & Aid
You can't afford not to look at Wabash College. The extraordinary generosity of Wabash alumni and friends enables us to maintain outstanding merit scholarships and a robust need-based aid program. The Wabash Promise is our commitment to making Wabash affordable for all students who desire to be Wabash Men.

The Wabash Promise is based on our commitment to provide a superior liberal arts education to qualified men regardless of their financial circumstances. Our need-based aid and merit scholarships fulfill this promise.

It's important to know the cost of attendance, but our office is dedicated to helping you understand that Wabash is affordable for talented young men, regardless of your financial circumstances.

We strive to make a private liberal arts education possible. Our office is dedicated to helping each family realize the potential of this high-quality education.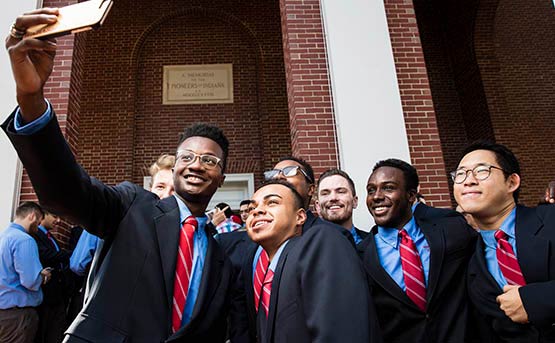 Take a Closer Look
Wabash has one of the most beautiful campuses in the country. But you have to experience what goes on here to fully appreciate the breadth and depth of our student-centered culture, and understand the high expectations of our Gentleman's Rule.

Take a virtual tour of campus, see what goes on inside our buildings, and learn about some of the unique features of a Wabash Liberal Arts Education.

Read about the experiences of Wabash students, their faculty and coaches, and alumni who make our College exceptional.

Students manage more than 70 clubs and organizations, and are involved in 12 varsity sports, nearly a dozen performance ensembles, and thousands of hours of community service.