Admissions & Financial Aid
Campus Jobs
WISE Description, WISE Eligibility, Required Documents, Securing Employment

The WISE Program - Description
Wabash Internships and Student Employment (WISE) is awarded to students as part of their financial aid package and is a part-time on-campus work opportunity. Only those students with WISE in their Financial Aid Award are allowed to work on campus. This is real work which needs to be done and students have the responsibility to work as scheduled and perform the assigned tasks. Student employees can lose their positions for non-performance or unreliability. A student will be paid biweekly as he works and this assistance should be used to cover a portion of his educational and personal expenses.
All students will be paid $10.00 per hour for campus employment during the academic year. To determine how many hours you will need to work each week to earn your full WISE eligibility, simply divide your WISE amount by $10.00, then by 30 weeks for the entire academic year. For example, a student packaged with $3,000 worth of WISE would need to work approximately 11 hours per week to earn his full eligibility ($3,000 divided by $10.00 divided by 30). Here is an WISE Calculator to help you.
See our WISE: FAQ's and Info for Students and Parents document for more information on Wabash Internships and Self Employment.
If you are unsure of your packaged WISE amount, refer to your financial aid package on Ask Wally. The following is a list of maximum hours students are allowed to work each week when class is in session:
Freshmen 14 hours per week
Sophomores 16 hours per week
Juniors 18 hours per week
Seniors 20 hours per week
If you have not worked on campus before, and plan to utilize all or a portion of your WISE eligibility, you must provide document/s verifying your eligibility to work in the U.S. (a requirement of the U.S. Citizenship & Immigration Service). You must present acceptable legal identification, a list of which is provided herein. Please read this list carefully to determine which documents you will need to present to the Business Office prior to employment. All documents must be original or official copies: faxes or hospital issued birth certificates cannot be accepted. Failure to complete this requirement means that you will not be paid!
All students with WISE in their financial aid package must complete a Student Employment Response Form (SERF) and submit it to the Financial Aid Office prior to securing an on campus job. Please click on the link below:
Online Student WISE Response Form
If you intend to utilize some of your WISE earnings to cover a portion of your balance due to the College, only the amounts you designate under D1, D2, and D3 of the SERF that you downloaded above, will appear as a credit on your bill with the College. Students who do not earn a sufficient amount to cover the portion of WISE for which they received credit on their bill must pay the remaining unearned portion of the credit to the College prior to the beginning of the next semester.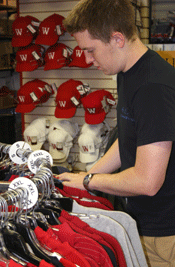 "The extra money is always helpful and the college is really good about hiring students."
Kyle O'Keefe
Undecided major
Indianapolis, Indiana
You will apply for all WISE opportunities through the WabashWorks system via Career Services. The majority of WISE positions are posted at the beginning of each semester, however, they may be posted at any time throughout the academic year. For details, and to begin the application process, go to The Career Services WISE website.