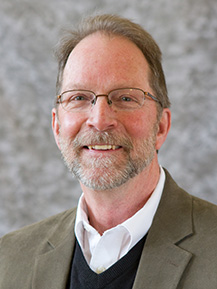 Dwight E. Watson
PROFESSOR OF THEATER, CHARLES D. AND ELIZABETH S. LAFOLLETTE DISTINGUISHED PROFESSOR IN THE HUMANITIES
Dwight Watson has been a member of the Wabash faculty since 1981. Teaching courses in acting, playwriting and dramatic literature, Professor Watson has led immersion class trips to Scotland (2006) to work with the Centre Stage Theatre Company at the University of Aberdeen, and to London (2011) where students studied the history and performance of the London stage. Dwight has directed more than forty productions at Wabash including Jitney, Endgame, Our Country's Good, Terra Nova, The Lord of the Flies, Equus, Twelve Angry Men, Inherit the Wind, Oedipus the King, A View from the Bridge, The Good Woman of Setzuan, Julius Caesar, Waiting for Godot, The Physicists, A Streetcar Named Desire, The Tempest, The Misanthrope, and A Doll's House. Wabash Theater has produced several of Dwight's plays including Dapple Gray, Eden Creek, and Dewey Boy and Wookie. Recently, Dwight's cast of Jitney was invited to present a staged reading of the play at the August Wilson Center for African American Culture in Pittsburgh, Pennsylvania. In 2010, Dwight adapted and directed Passages from the Writings of Roald Amundsen and Robert Falcon Scott for the American Museum of Natural History, involving Wabash students in a performance at the Kaufmann Theater in New York City.
On campus, Professor Watson served for many years as Chair of the Theater Department and Chair of the Division of Humanities and Fine Arts. He values his correspondence with past Wabash students, many of whom have pursued successful careers in the theater. He enjoys the outdoors, Wabash Athletics, football and basketball, the Blues guitar, and the view of the Wabash College Arboretum from his office window.
EDUCATION
M.F.A. Acting and Directing, University of North Carolina, Greensboro.
B.A. Dramatic Literature and Theater, University of North Carolina, Pembroke.
RECENT COURSE OFFERINGS
THE 105 — Introduction to Acting
THE 103 — Seminars in Theater:
The Lawyer as Storyteller in the Courtroom and the Stage
Explorers and Exiles in Literature, Theater and Film
Our American Brothers in Drama from Eugene O'Neill to Suzan-Lori Parks
THE 210 — Playwriting
THE 498 — Senior Seminar
RECENT PRESENTATIONS
"Intersection of Time," Great Writing: The International Creative Writing Conference, Imperial College, London, U.K., 2014
RECENT PUBLICATIONS
"A Bleeding Heart," Vol. 10, Issue 2, Review Americana: A Creative Writing Journal, 2015.
"The BPA Disruptor: A Short Play," Annals of Praetachoral Mechanics, Vol.2, SCQ, Science Creative Quarterly, University of British Columbia, Canada. (2015)
"Intersection of Time," Cha: An Asian Literary Journal. June, 2015.
HONORS AND AWARDS
McClain-McTurnan-Arnold Excellence in Teaching Award, 2015.
McLain-McTurnan-Arnold Research Fellowship. Wabash College.
Individual Artist Master Fellowship. Indiana Arts Commission.
Finalist. Theatre Oxford Ten Minute Play Contest. Oxford, MS.
Selected Playwright. American Theatre of Actors. Director's Festival. New York City.
Winning Playwright. New Play Festival, Ritz Theatre, Oaklyn, NJ .
First Prize, Actor & Playwrights' Initiative Theater, Kalamazoo, MI.
Selected Playwright. Studio Arena Theatre PlayWorks Program. Buffalo, NY.
PODCAST

Dwight Watson, the 2015 McLain-McTurnan-Arnold Award winner, discusses the connections between his distinguished careers in teaching and theater.