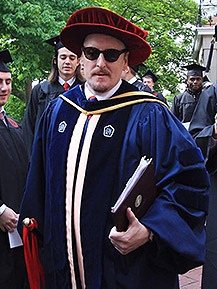 James Cherry
ASSOCIATE PROFESSOR OF THEATER, FACULTY MARSHAL, DEPT CHAIR
After completing his doctoral work in theater history in New York City, Jim Cherry arrived at Wabash in 2007. Jim's research focuses on popular forms of 19th and early 20th century American performance like melodrama and vaudeville. He is interested in the ways in which these cultural forms both help shape, and are shaped by, prevailing and dissident ideologies. Jim has the chance to direct a play every year at Wabash, and his tastes range from the classical (Shakespeare's The Two Gentlemen of Verona and Macbeth; Euripides' The Bacchae) to the contemporary (Arthur Miller's Incident at Vichy; David Mamet's Glengarry Glen Ross). He also acts occasionally when an "older" male performer is needed (Prospero, The Tempest). He is an Associate Professor, Chair of the Department, Coordinator of Film and Digital Media, and Wabash's Faculty Marshal.
When not in the theater, Jim can be found hanging out with his wife, Crystal Benedicks, an Assistant Professor in the English Department, and their three children. He also enjoys playing tennis, reading contemporary fiction, and watching the Red Sox pummel the Yankees.
EDUCATION
Ph.D. in Theatre, The City University of New York Graduate Center, May 2005
M.A. in Theatre, Villanova University, May 1998
B.A. in History, Bates College, May 1995
RECENT COURSE OFFERINGS
THE 101: Introduction to the Theater
THE 103: Seminars in Theater
Beyond Heroes and Villains: American Melodrama
Political Performance in America
Multicultural Theater in America
Great Directors: Alfred Hitchcock and Orson Welles
Henrik Ibsen: The Father of Modern Drama
The Antihero in American Film
Parody and American Culture
THE 211: History and Literature of the Theater—Ancient Greece to Spanish Golden Age
THE 212: History and Literature of the Theater—The French Renaissance to the Rise of Realism
THE 213: American Theater and Drama
THE 214: Modern European Drama
Freshman Tutorial: 9/11 and American Culture
Enduring Questions
RECENT PRESENTATIONS
Panel Participant:"Survival Tactics: Theatre in American General Education." ATHE 2010, Los Angeles, CA, August 2010.
Panel Participant:"Surviving Graduate School and the Job Market." ATHE 2010,Los Angeles, CA, August 2010.
Paper Presentation: "Welcome Home: Seeing 'The Next Great American Play' in August: Osage County," ATHE 2009, New York, NY, July 2009.
Paper Presentation: "Diagnosis Paper: Borrowing from TV Medical Dramas to Improve Writing," ATHE 2009, New York, NY, July 2009.
Paper Presentation: "Speaking in the Aftermath: Oratory and Catharsis in the Plays of Anne Nelson," "Violence on Stage," III International Conference on American Theatre and Drama, Cadiz, Spain, May 2009.
Paper Presentation: "Nostalgia, Melodrama, and the Aesthetics of Obsolescence." ATHE 2008, Denver, CO, July 2008.
Paper Presentation: "This is Then: Melodrama, Nostalgia, and the Body in Performance." NEMLA 2008, Buffalo, NY, April 2008.
Paper Presentation: "From 'The Big Sandy' to 'The Great White Way': The Reinventive Career of Billy Bryant." ATHE 2007, New Orleans, LA, July 2007.
RECENT PUBLICATIONS
"In Edgewise: Examining Parodic Responses to David Mamet." In Crossings: David Mamet's Work in Different Genres and Media, (Cambridge Scholars, 2009), 177-191.
"Rituals of Nostalgia: Melodrama at the Millennium." Americana: Readings in American Popular Culture (Press Americana, 2006). Previously published in Americana: The Journal of American Popular Culture (Fall 2005), 279-285.
Book Review: "American Drama in the Age of Film by Zander Brietzke." Theatre Journal 60:4 (December 2008), 682-683.
Book Review: "Staging Whiteness by Mary F. Brewer." Theatre Journal 58:4 (December 2006), 725-726.
Performance Review:"Kamp." Theatre Journal 63: 1(March 2011), 109-111.
Performance Review: "FABRIK: The Legend of M. Rabinowitz." Theatre Journal 62: 1 (March 2010), 108-110.
Performance Review: "Hell House." Theatre Journal 59:3 (October 2007), 517-519.