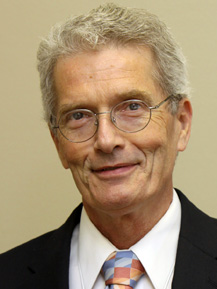 Gary Phillips
PROFESSOR OF RELIGION, EDGAR H. EVANS CHAIR IN RELIGION
Gary A. Phillips has served as Dean of the College and Professor of Religion at Wabash College since 2006. He teaches occasionally in the Department and in All-College courses. His research and teaching interests focus upon the Bible and its relationship to Western art and culture, issues of violence and religion, and the reading and teaching of the Bible by Jews and Christian after the Shoah. Recently, he has written about and curated an exhibition of the artwork of Holocaust survivor Samuel Bak. In summer 2011 he participated in a summer seminar at the United States Holocaust Memorial Museum's Center for Advanced Holocaust Studies investigating the historical tie between anti-semitism and Christian theology.
When he is not in the Dean's Office or classroom, Dean Phillips can be found cycling on the back roads of Montgomery County, visiting with grandsons in New York City, or installing tile.
EDUCATION
Ph.D. Vanderbilt University, 1982
New Testament Studies and linguistics, Highest Distinction
(École Pratique des Hautes Études, Paris, 1975-76)

M.Div Vanderbilt Divinity School, 1974
Biblical Studies, Theology, Magna Cum Laude
B.A. Lynchburg College, 1971
Religion, Philosophy, English, Magna Cum Laude
RECENT COURSE OFFERINGS
Parables in Jewish and Christian Traditions
Freshman Tutorial- Images of Jesus in Gospel and Film
Enduring Questions
RESEARCH
Violence and Religion
Ethics of Biblical Interpretation
Reading the Bible after the Holocaust
RECENT PRESENTATIONS
"Representing the Irreparable: The Artwork of Holocaust Survivor Samuel Bak." DePauw University, September 23, 2010.

"More Than the Jews…His Blood be upon all the Children: Biblical Violence, Bosnian Genocide and Responsible Reading." Children in the Biblical World Section, SBL Annual Meeting, November 21, 2009.

"The Domain of the Dead and the Witness of the Liberal Arts." The 30th Annual LaFollete Lecture. Wabash College, October 9, 2009. Watch on YouTube.