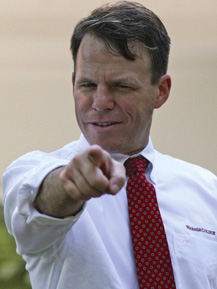 Ethan Hollander
ASSISTANT PROFESSOR OF POLITICAL SCIENCE
I'm an Assistant Professor of Political Science here at Wabash College. I love my job, this college and its community, because it gives me the ability to teach and learn from the most engaged students an educator could hope for, to ask questions about important and fascinating social and political phenomena, and to be a part of a dynamic and supportive community.
In both my teaching and my scholarly research, I hope to bridge academic disciplines in an effort to better understand the world in which we live. For example, I am writing a book on the Holocaust (Swords or Shields? Implementing and Subverting the Final Solution in German-occupied Europe) which uses the concepts and methods of contemporary political science to answer a fascinating historical question: Why did more Jewish people survive in some German-occupied countries compared to others during World War II? The answer is not what you might expect, and forces us to reconsider everything from our understanding of politics and history, to the moral and ethical questions that arise from warfare, imperialism, genocide and state-sponsored violence.
My interdisciplinary approach also informs my teaching, where my current teaching portfolio includes such varied courses as Nationalism and Ethnic Conflict; European Politics; Politics of the Middle East; and Research Methods and Statistics. I also enjoy sharing the process of original scholarly research with my students, and have worked with students on such varied topics as warfare, the Holocaust and genocide, to European Union immigration policy, South African electoral reform, and Vietnam War photography, just to name a few. Part of the beauty of working in a small college is the opportunity to share the learning process with my students who, in turn, teach me more than I could learn on my own.
Finally, this community allows me to pursue my non-academic interests, which include hiking, pottery, brewing beer and making good food (like yogurt and pickles). Indeed, my primary personal interest, exploring my community, is connected with my primary scholarly endeavor: To learn new things and to share the process of learning with those around me. That's a job from which I never hope to retire.
EDUCATION
Ph.D., University of California, San Diego, 2006
M.A., University of California, San Diego, 1999
B.A. (with High Honors), Wesleyan University, 1994
RECENT COURSE OFFERINGS
PSC 122 - Introduction to Comparative Politics
PSC 261 - Scope and Methods of Political Science
PSC 326 - Politics of the Middle East
PSC 372 - Nationalism and Ethnic Conflict
PSC 374 - Politics of the European Union
Cultures and Traditions
RECENT PRESENTATIONS
"Germany Ascendant." Bob Calhoun Memorial Great Decisions Program for the Foreign Policy Association and the Indiana Council on World Affairs, February 9, 2011.
"Swords of Shields: Implementing and Subverting the Final Solution during WWII." Yom Limmud: San Diego's Community Day of Learning, January 30, 2011.
"Panel Discussion on Arthur Miller's 'Incident at Vichy.'" Ball Theater of the Fine Arts Center, Wabash College, October 8, 2010.
"Panel Discussion on Representations of the Holocaust." Watson Forum, Pulliam Center for Contemporary Media, DePauw University, September 23, 2010.
Political Science Instructor for East China Normal University International Summer Institute. East China Normal University, Shanghai, China, Summer 2010.
"The Final Solution in Bulgaria and Romania." Senior Seminar on Genocide and Political Violence, DePauw University, April 12, 2010.
"Difficult Moral Questions and the Holocaust." Lecture for the Brotherhood of the Indianapolis Hebrew Congregation, September 20, 2009.
"War by Other Means: Germany and the European Union." Lecture for German Literature and Culture, Wabash College, April 30, 2009.
"Beer and Guns." Chapel Talk, Wabash College, April 9, 2009.
RECENT PUBLICATIONS
"The Bystander in Holocaust History and Education." In Forum 21: European Journal on Child and Youth Research. No. 7 (forthcoming, June 2011)
"The Final Solution in Bulgaria and Romania: A Comparative Perspective." In East European Politics and Societies. Vol. 22: No. 2 (Spring 2008): pp. 203-248.
"Modern Day Masada: Moral Commitment and the Sacrifice of Norway's Jews." In The Legacy of the Holocaust: National Perspectives by Zygmunt Mazur, Fritz Konig, Arnold Krammer, and W?adys?aw Witalisz (eds). Krakow: Jagiellonian University Press. (Forthcoming)
"International Hierarchy and the Final Solution." (Under review)
"The Banality of Goodness: Collaboration and Compromise in the Rescue of Denmark's Jews." (Under review)
"Islands in a Storm: Reputation, Signaling and Effective Indivisibility in the Falklands/Malvinas Crisis." (Under review)