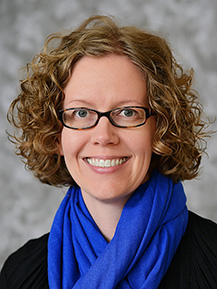 Kristen Strandberg
VISITING ASSISTANT PROFESSOR OF MUSIC
Kristen Strandberg began teaching at Wabash in 2012 and maintains a variety of teaching and research interests. At Wabash, Prof. Strandberg has taught courses including Music in American Society, Classical and Romantic Music, and Twentieth-Century Music, along with general courses such as Introduction to Music and Music Fundamentals. Prof. Strandberg encourages creative approaches to learning, as well as applying the classroom experience to the real world. Her classes have attended concerts, visited a radio station, and performed in a concert of Civil War music at Crawfordsville's Lew Wallace Study.
Prof. Strandberg's primary research focus is nineteenth-century music. She takes an interdisciplinary approach, exploring music in its social and cultural contexts. She has appeared as a speaker and presenter in the U.S., Europe, and Puerto Rico on topics including violin virtuosity, Chopin, nineteenth-century chamber music, the Ballets Russes, and American orchestras' musical responses to the 9/11 terrorist attacks.
Prof. Strandberg's essay, "'Une véritable consécration': Revisiting the Question of Chopin's Influence on Gottschalk" recently appeared in the book, After Chopin: Influence of Chopin's Music on European Composers till the First World War, published by the National Chopin Institute in Warsaw, Poland. Her dissertation, "Art or Artifice?: Violin Virtuosity and Aesthetics in Parisian Criticism, 1831-1848," examines the ways in which nineteenth-century French attitudes toward foreignness, technology, creativity, and artistry influenced music critics' discussions of violin performance.
Prof. Strandberg holds a degree in cello performance from the University of Minnesota, and and a PhD in musicology from the Indiana University Jacobs School of Music.